Increase customer satisfaction by improving restaurant operation more efficiently and faster
ASTA has a variety of products for both customers and restaurants' staff. These realize the situation that customers enjoy their meal and their staff work with stress-free environment.


More News & Events

The problems
Customers may face difficulties when dining in a restaurant.
For example: waiter/waitress do not come to serve customers, difficult to understand Menu given and often need to ask waiter/waitress. Besides, staff could be too busy and might forget some orders.
Customer dissatisfaction caused by inability of busy employees to answer questions.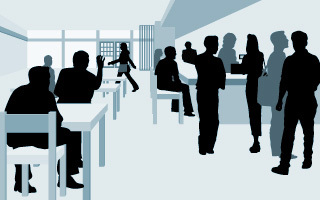 Too busy to find the time to add menu items and train employees in order to increase sales.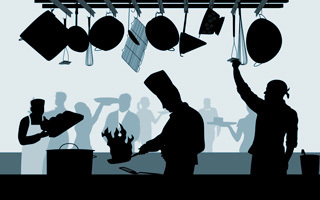 The asta solution
From customer's ordering process to serving food, all processes are automated and can be visualized easily.
By using emenu (TTO) or ticket vending machine (payment kiosk), customers can order food faster with easy menu.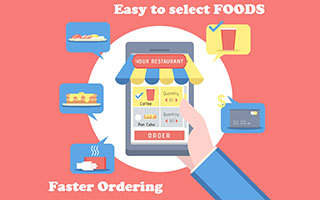 Display monitor to show order list-up and printer will be placed in kitchen. The whole process from food ordering to serving can be more efficient and monitored easily.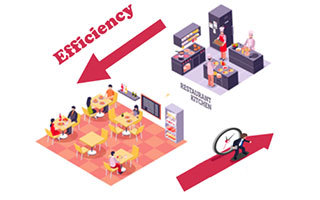 PRODUCT LIST
E-menu | TTO (Table Top Ordering)
E-menu | TTO (Table Top Ordering) is an interactive food ordering system and an innovative alternative to traditional paper menus.
With our e-menu restaurant, your customer can look through all the food items and make their choice at their own pace. Once food items are ordered via e-menu, the information will be sent to kitchen and POS system instantly.
It can also show
- Today's recommendation or promotion
- Ordering History and Total Amount
- Advertisement
And our e-menu is water-resistant and has shock absorder.

Customer satisfaction can be improved, and restaurant operations will be more effective.
Screen Sample (Restaurant)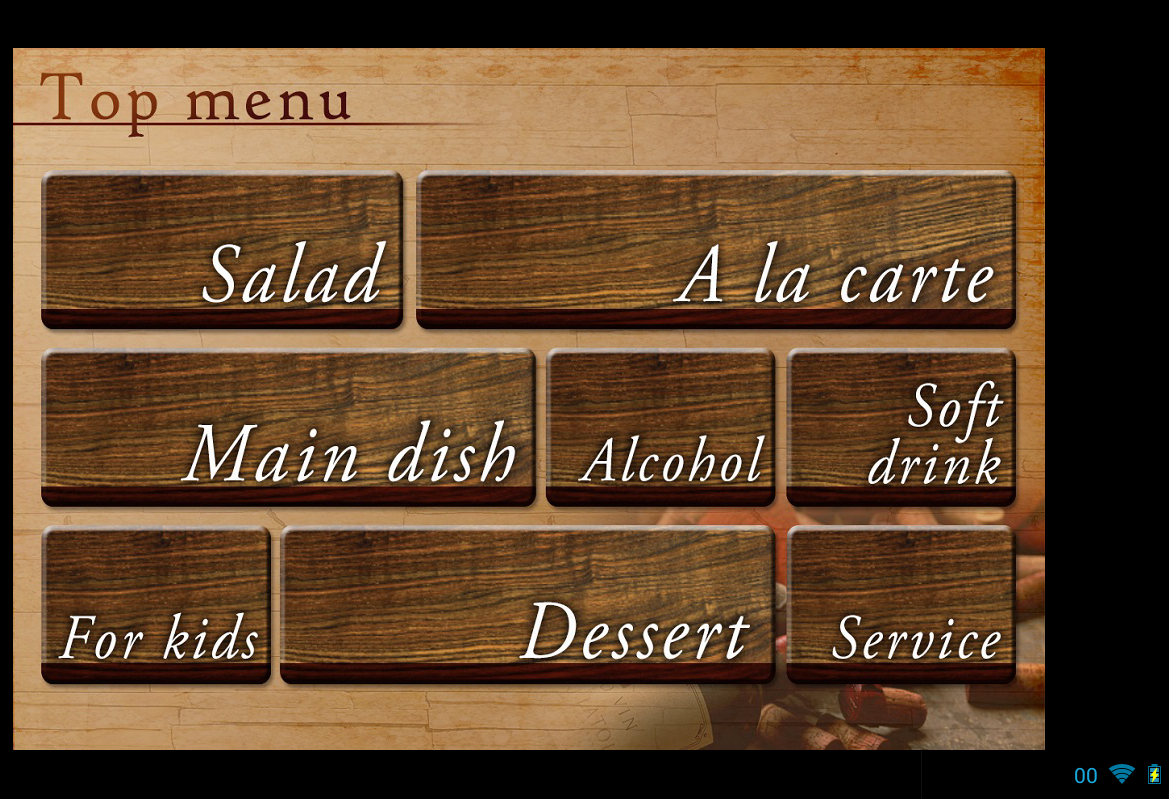 TOP Menu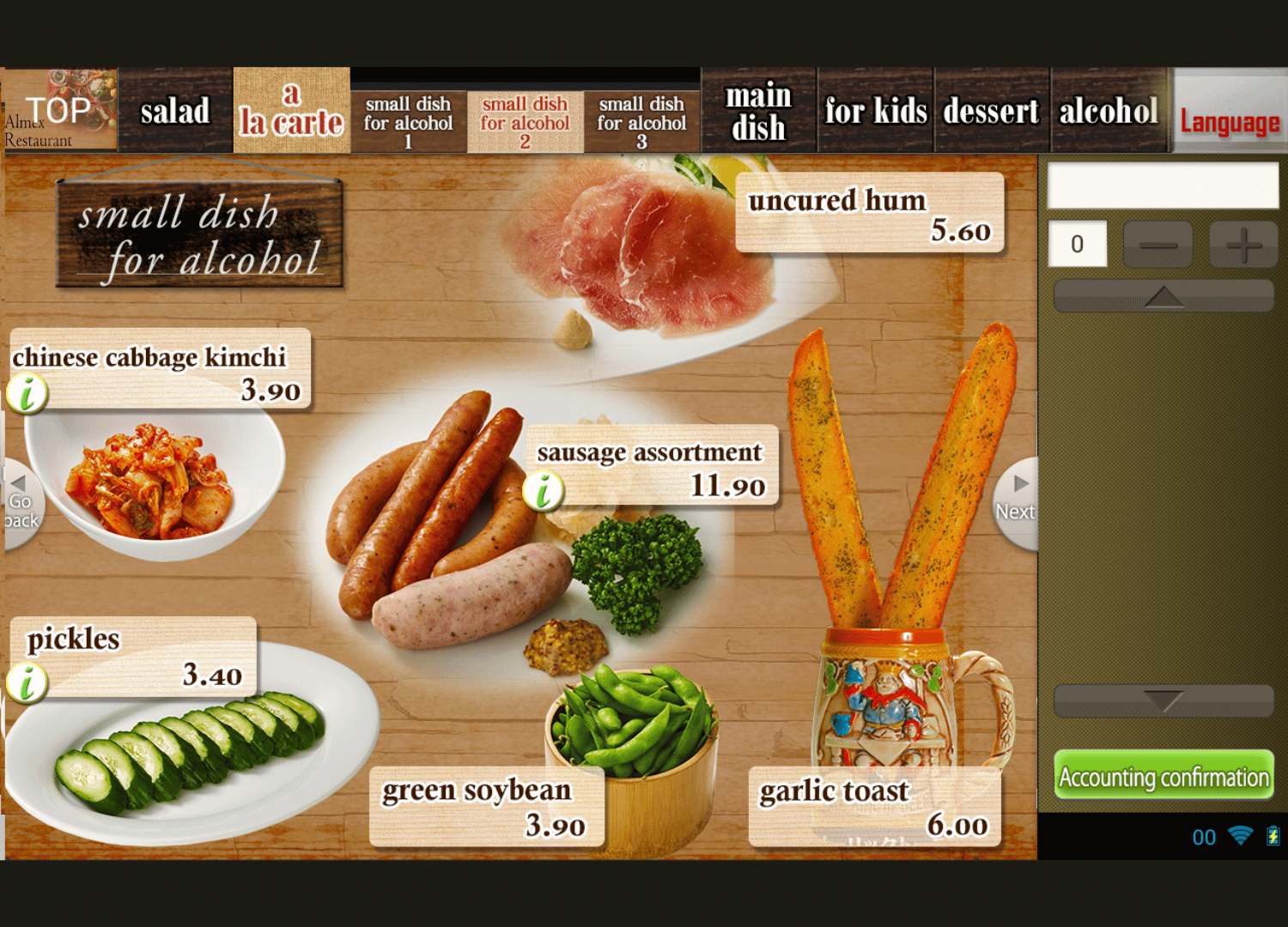 A la carte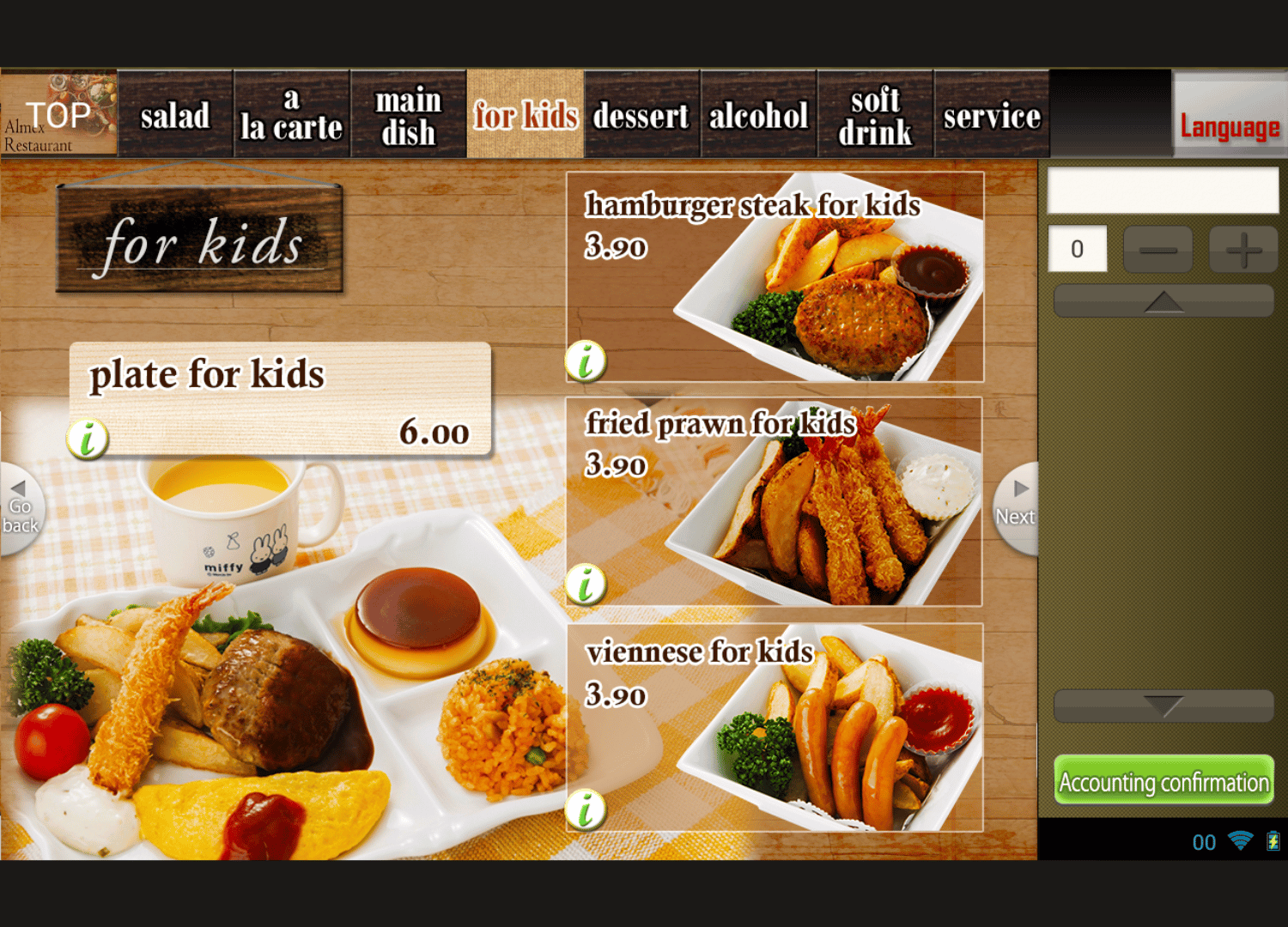 Kids menu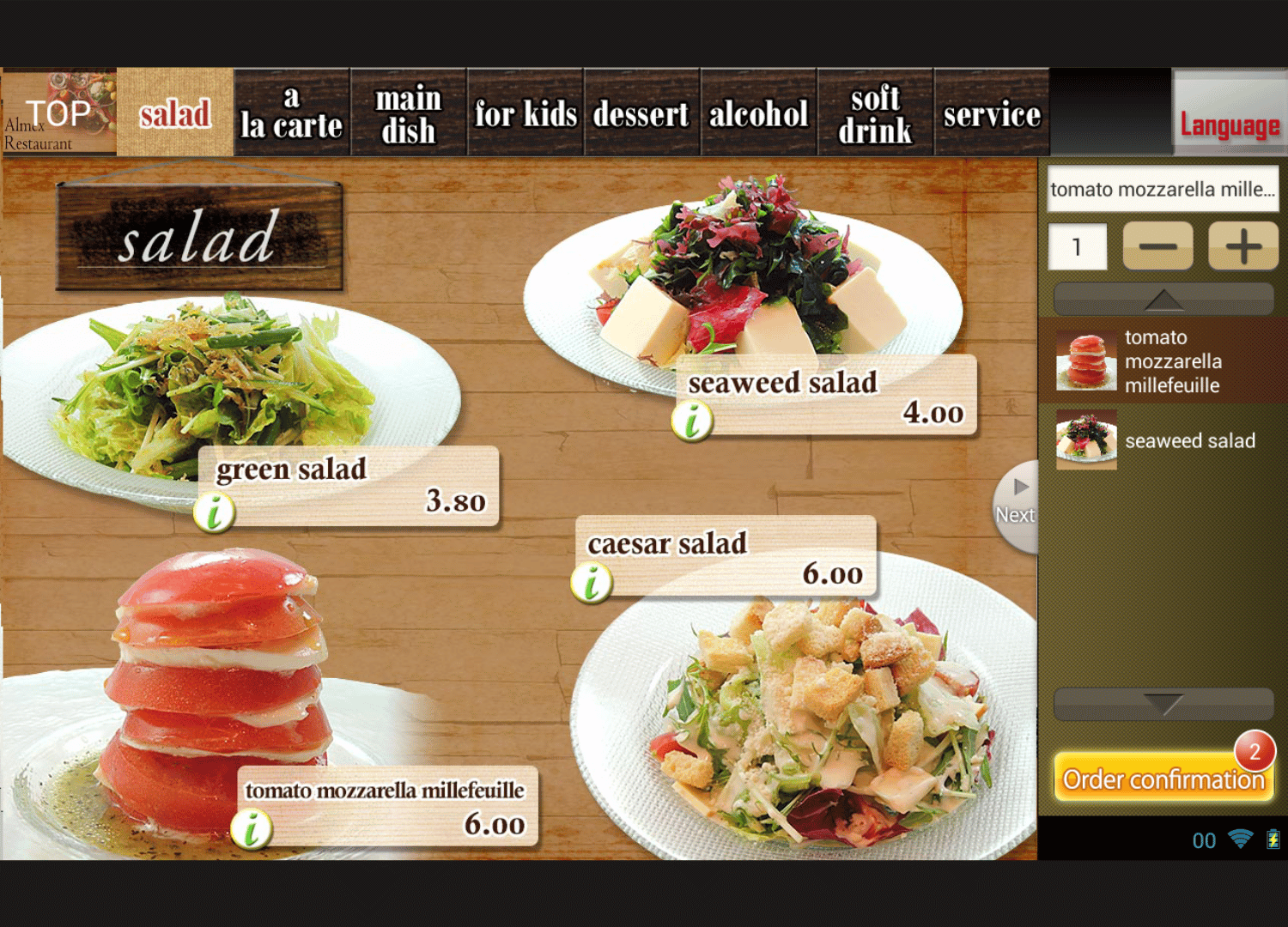 Salad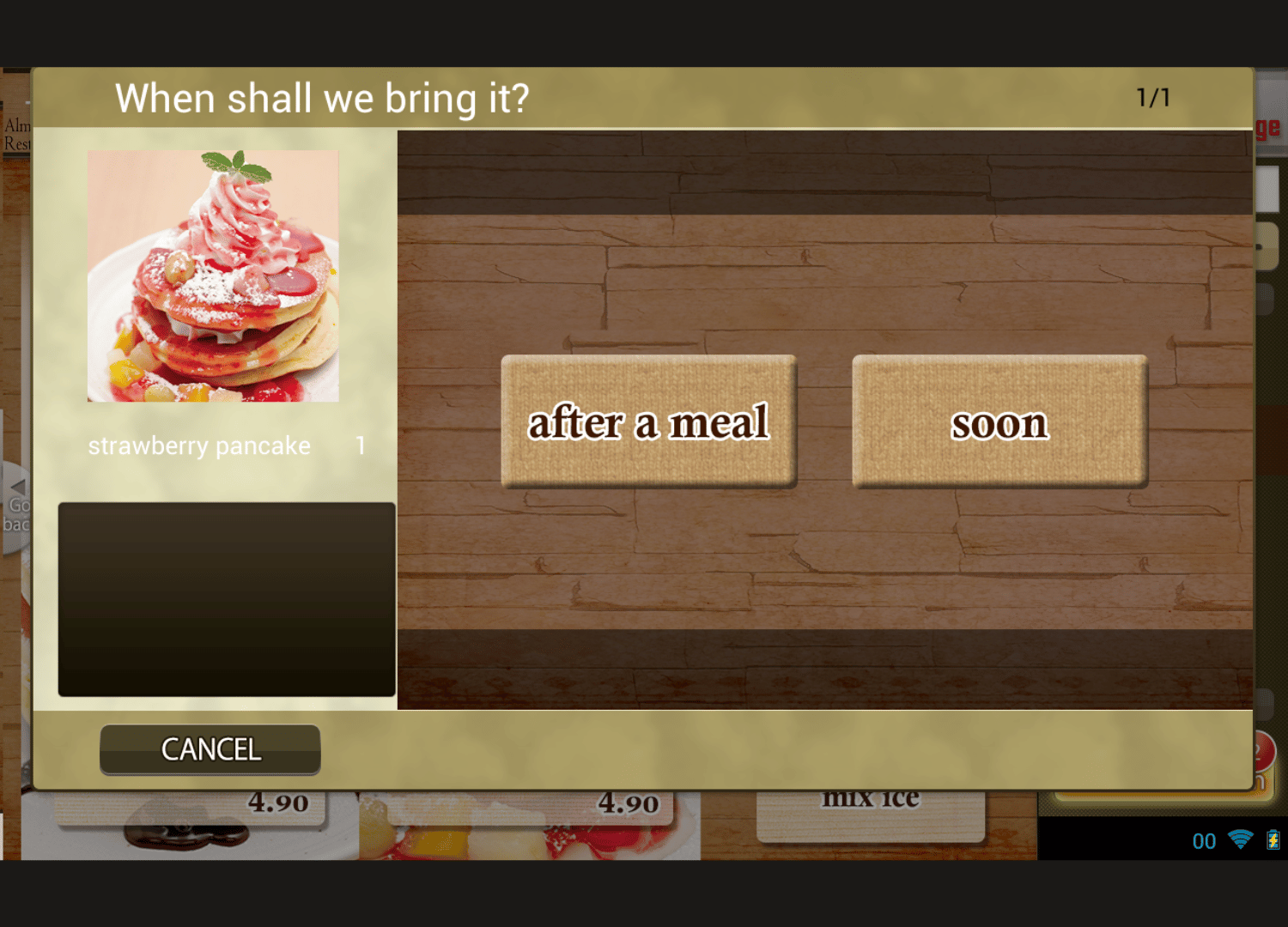 Dessert(Select the served time)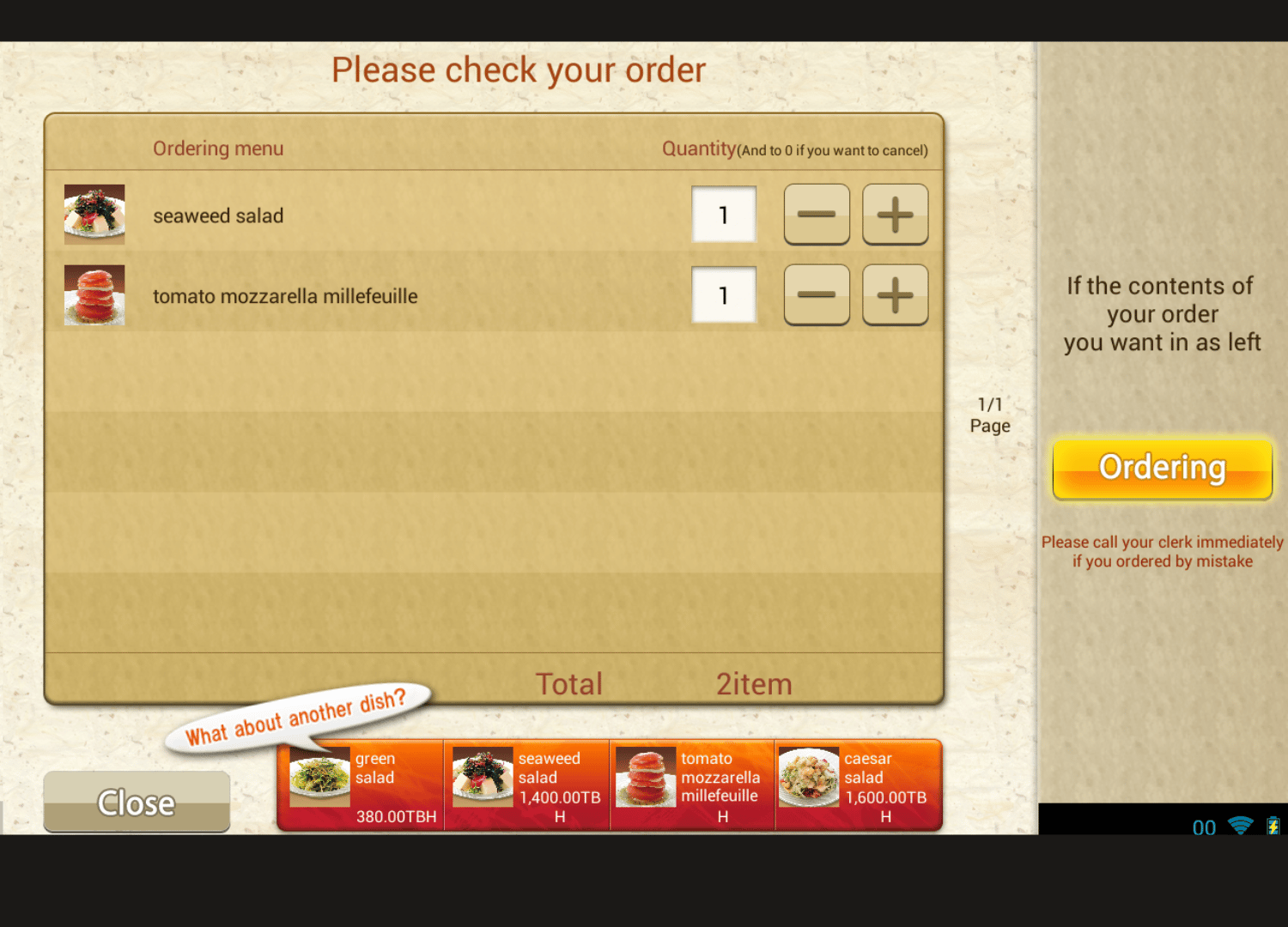 Order list & Pop up of recommended item box
Screen Sample (BBQ)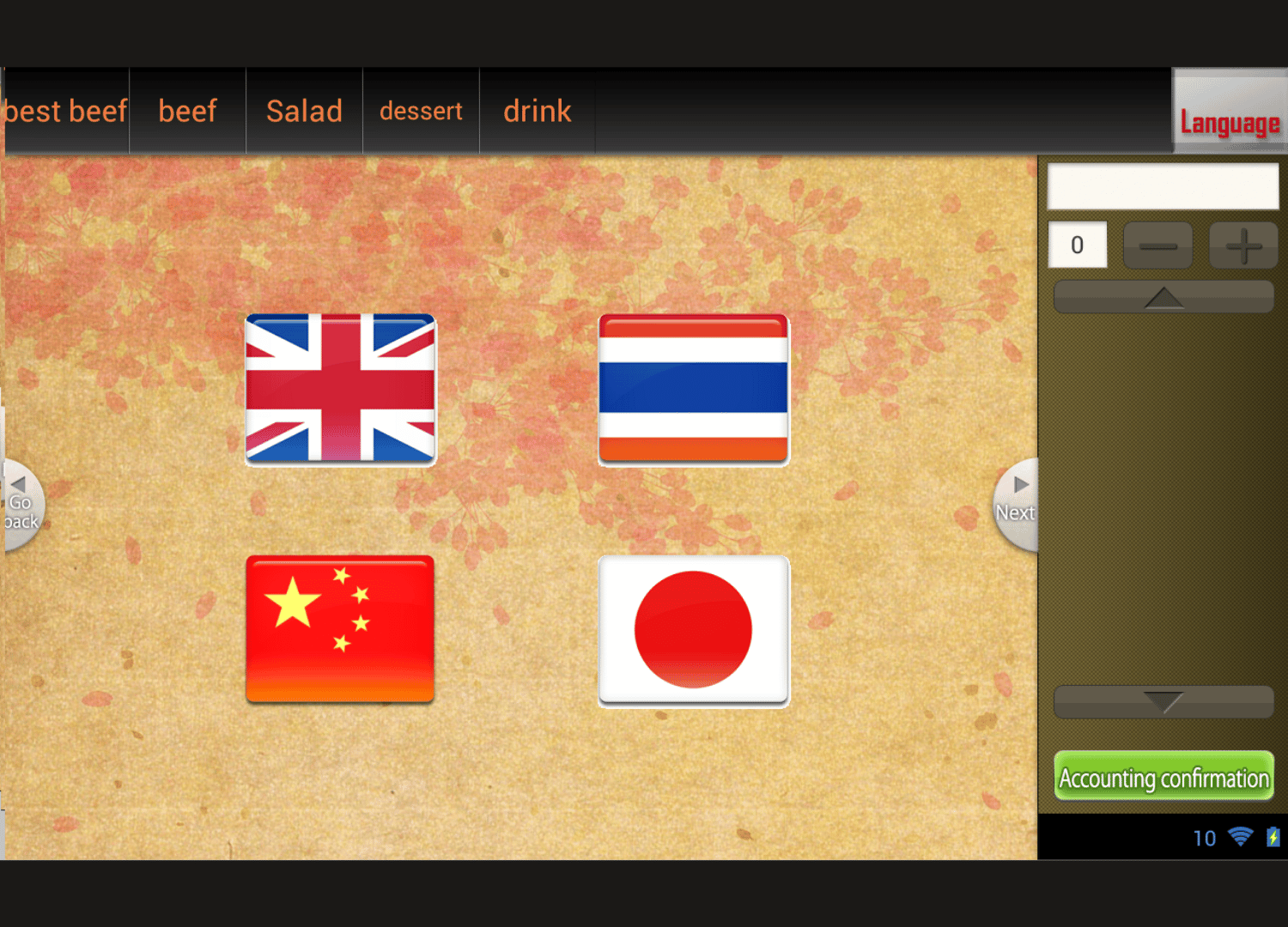 Language Change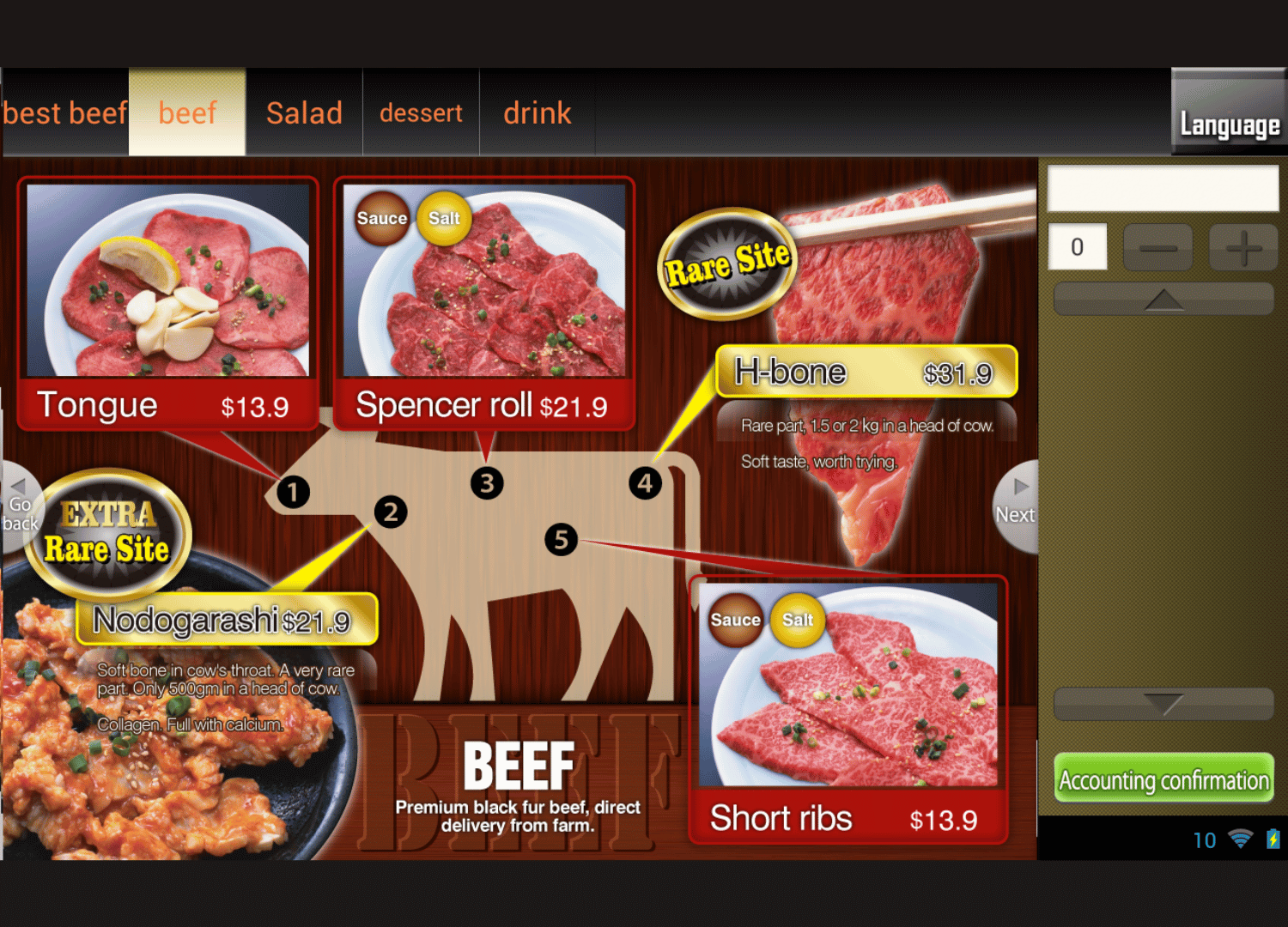 Beef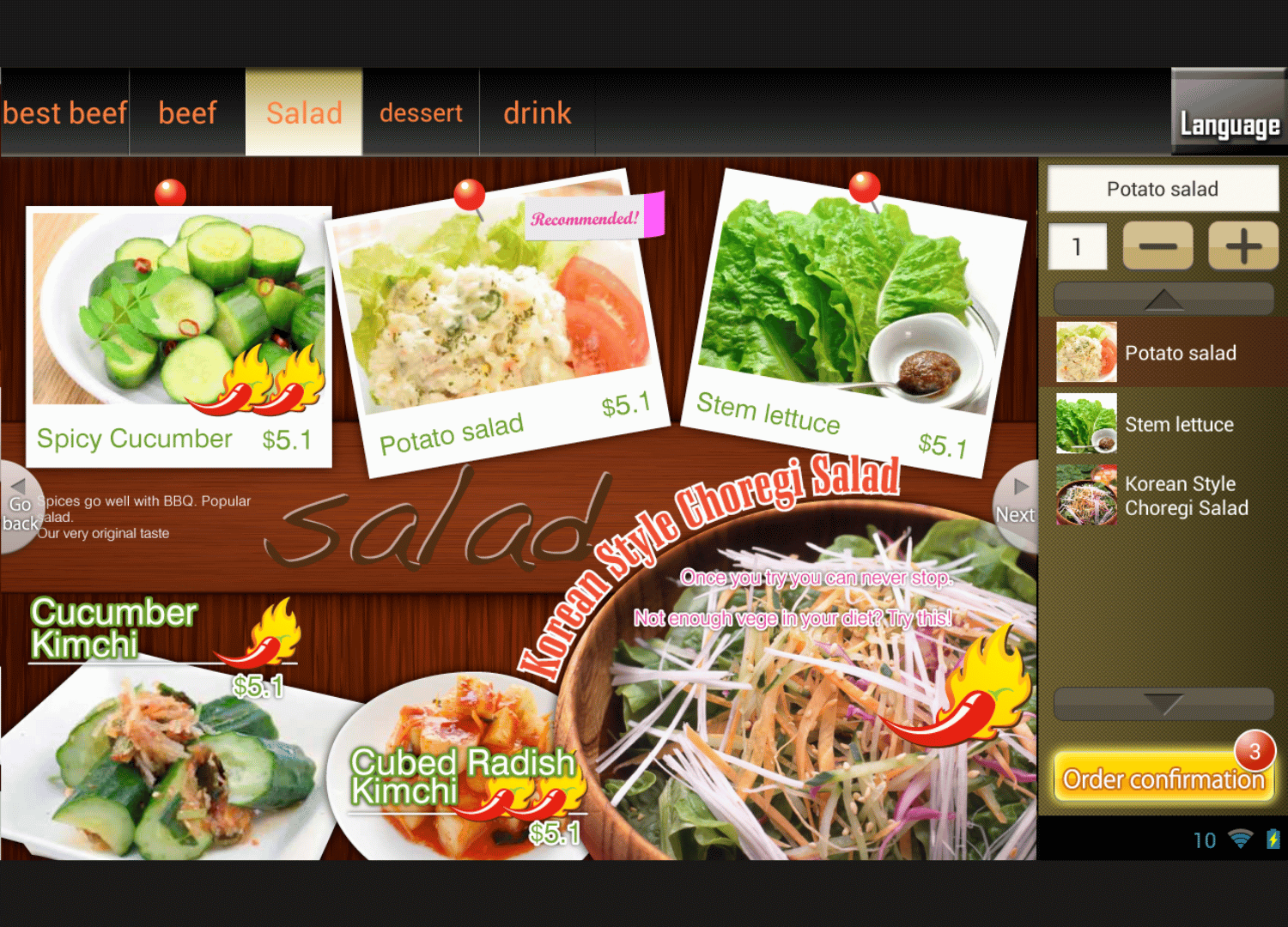 Salad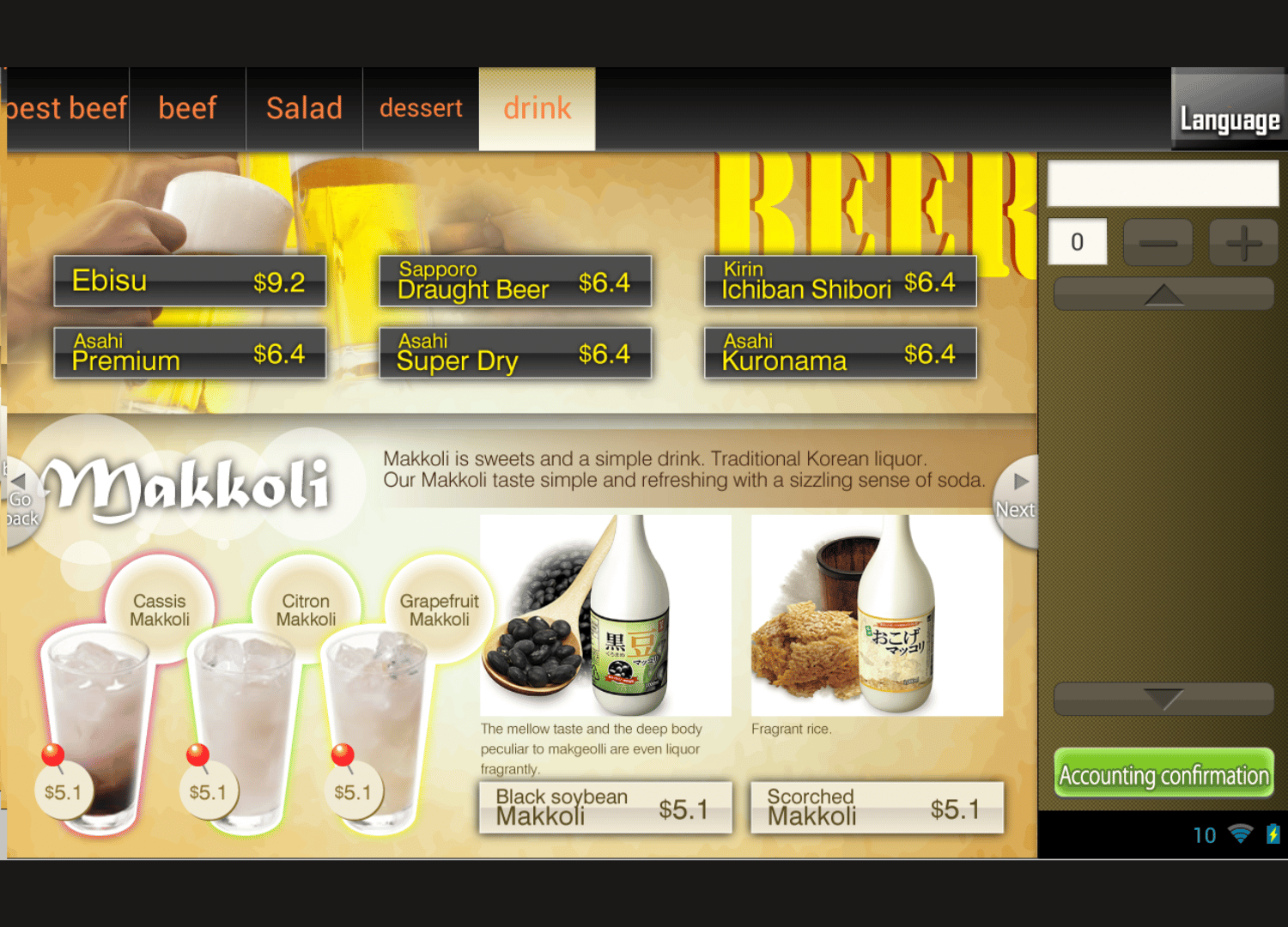 Drink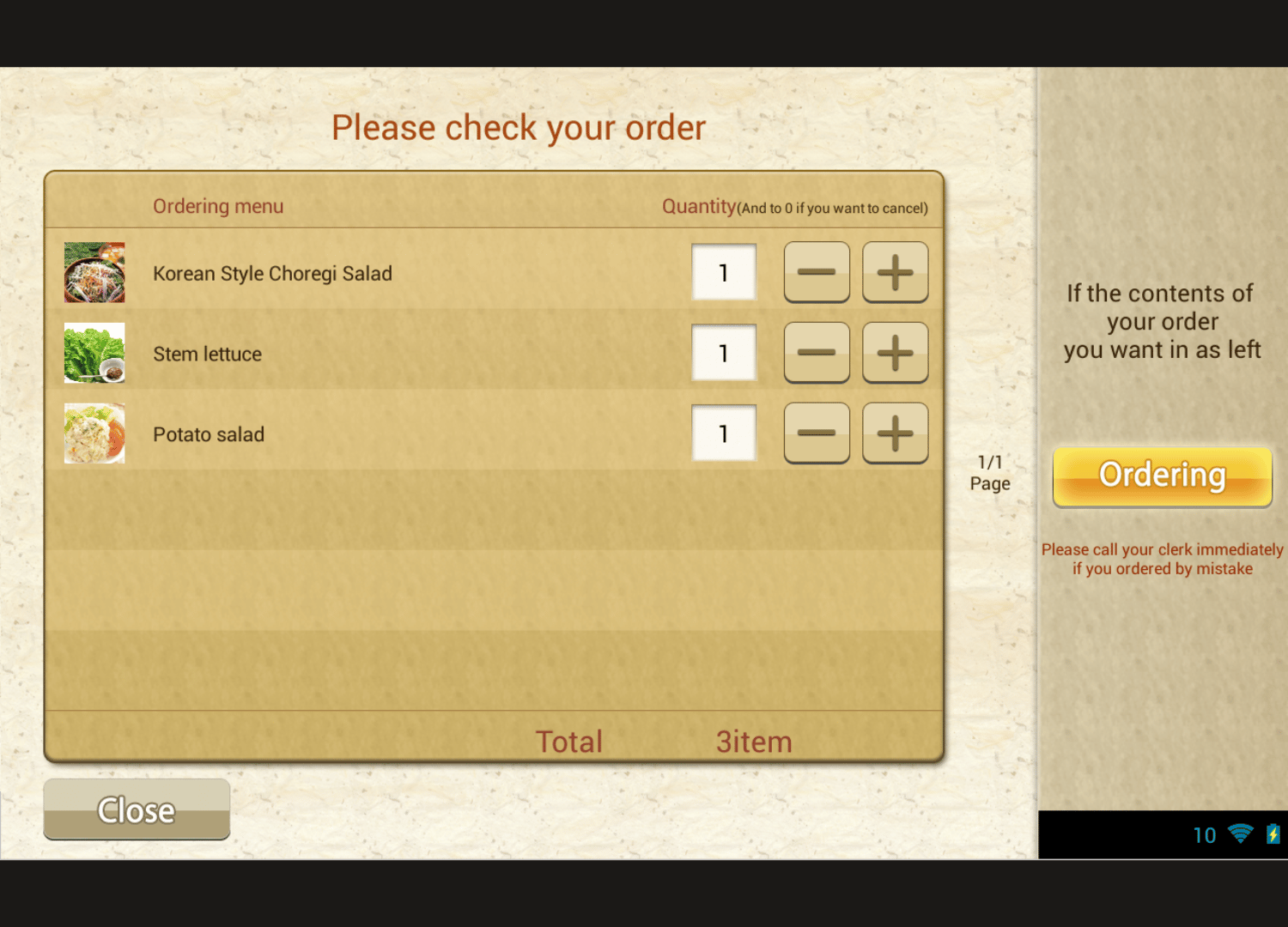 Order list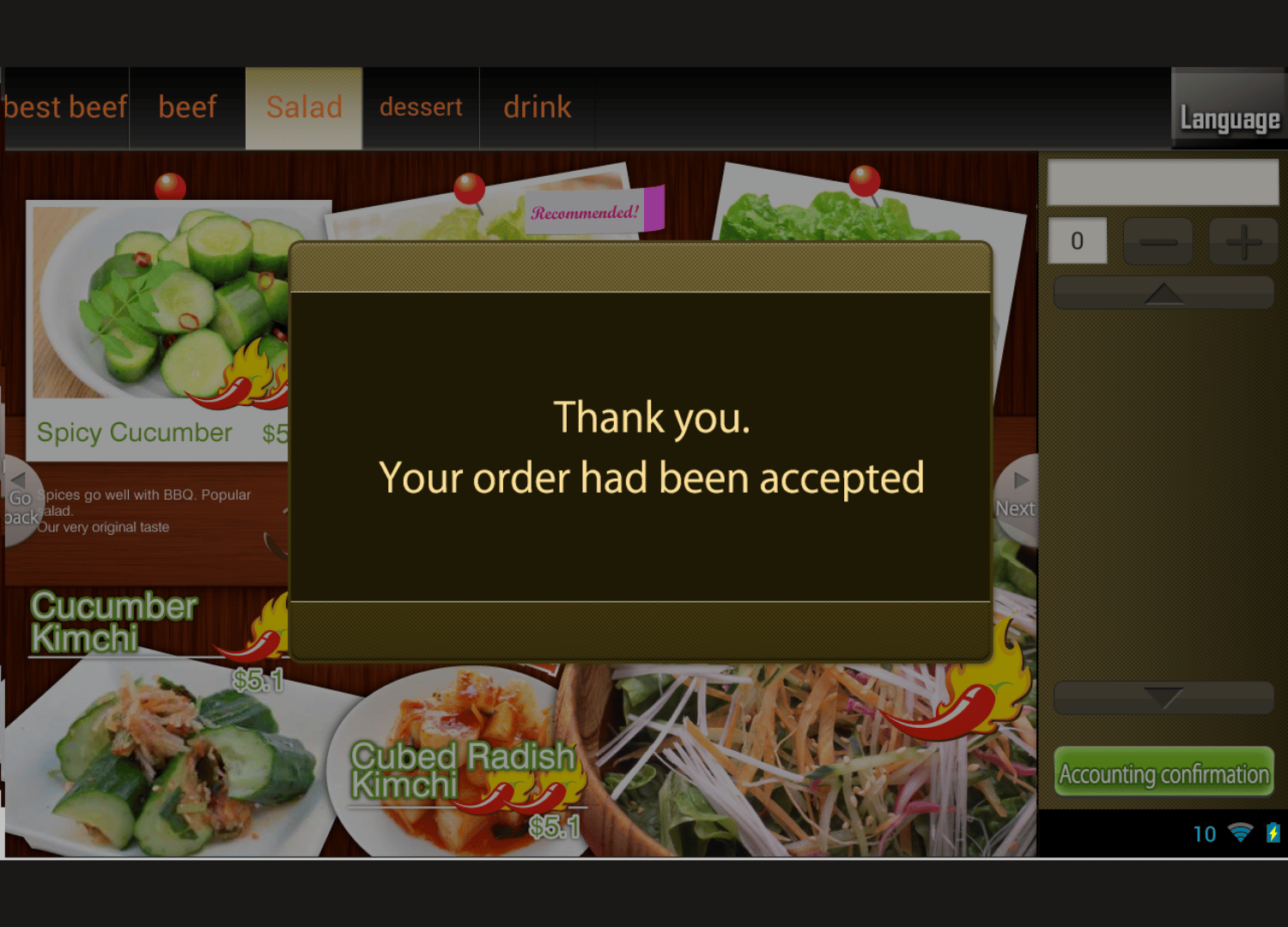 Finish
Floor Manager | TTO Control Application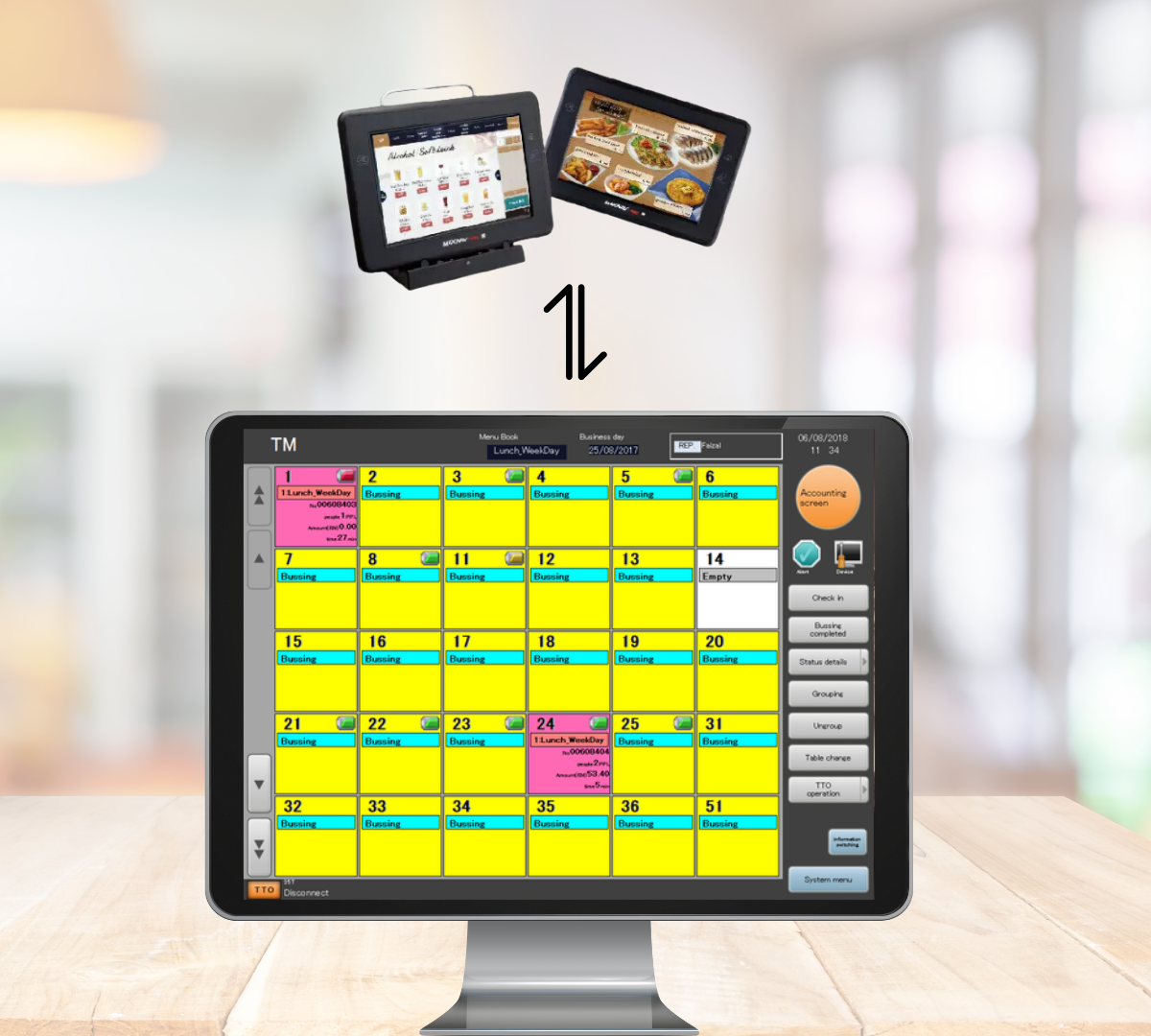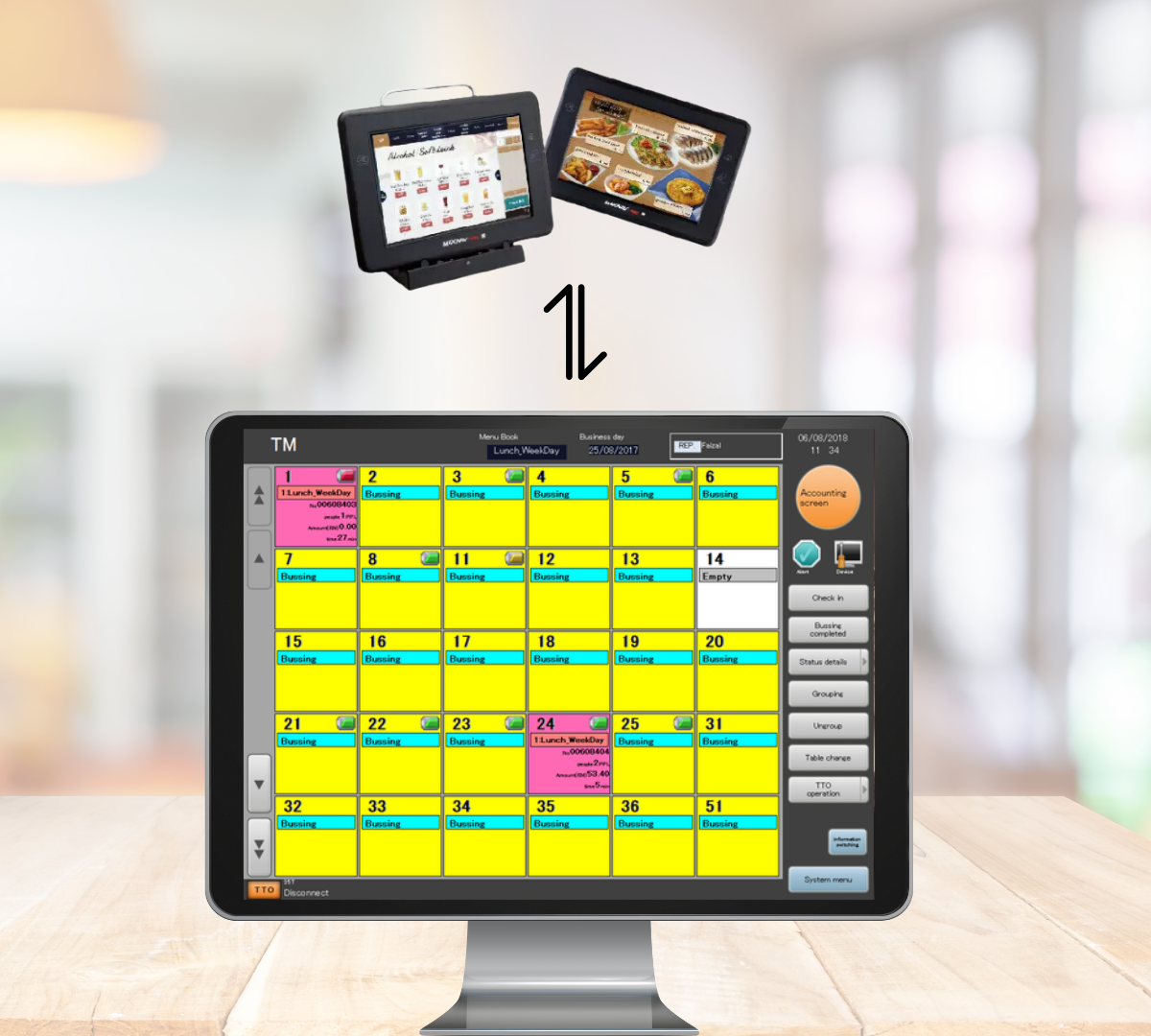 E-menu (TTO) Controller Application (named Floor Manager), which should be installed into onsite PC, helps some manager of restaurant controlling and monitoring E-menu devices status, changing menu setting easily.
**This Application is included in TTO terminal purchase.

1-1. Top Menu
Top Menu shows all table status (Check-IN / OUT) and total amount & time of each table. In the check-in tables box, manager can check the battery status of E-menu which assigned to the table.
1-2. Table Details Status
Manager can tap a table on the Top Menu Screen and then see the table details status.The table details status includes these information of assigned E-menu below,
- Terminal ID & IP address
- Battery percentage
- Terminal's menu book type
- Check-IN time and Usage time
And remotely can turn on/off & reset for maintenance.

2. Menu Book Selection
The case that the restaurant has various menu type depending on the day (Monday-Sunday) or time (Morning/Lunch/Dinner), Manager can switch the menu setting of all TTO terminals easily.

3. Goods-off Setting
In the case that some menu item is out of stock, Manager can close the menu's ordering button of all terminals immediately.
Floor Manager
1-1. Top Menu
1-2. Table Details Status
2. Menu Book Selection
3. Goods-off Setting
Kitchen Display System
KDS is linked with our e-menu ordering and helps to coordinate kitchen operations and make all processes more efficient.
It is user-friendly and same menu item can be grouped together for better process. Useful icons and various status colors are included to help coordinating kitchen operations.

KDS displays the order lists and other staus such as below.
- Quantity
- Table Number
- Elapsed Time
- Order history
Once the food is prepared, KDS can print the item slip for waiter.
Ordering Kiosk / Ticket Vending Machine
Food ordering made easy !
We bring forth the famous Japanese ticket vending machine technology and customers are no longer needed to follow traditional food ordering system.
Customers can make their orders without waiting staffs and the entire process is less than 5 minutes.
Our ticket vending machine comes with attractive and user-friendly interface, practical exterior design, and capable of receiving payment through 3 methods below.
Cash, Credit card, E-money
F&B Serving Robot (BellaBot / KettyBot)
With the robot waiters and waitresses, your customers will definitely be fascinated to visit a second or third time, eventually becoming your regulars not only because of your food, but also because of your friendly and welcoming servers !

Introducing Ketty Bot and Bella Bot, both are servicing bots that are helpful and are great helps to ease the operation of waiters.
With the bots serving food, the servers are now more available to answer to imprompt enquiries from the other customers.
Customers are now satisfied with the help provided and the food arriving on time, and your staffs are easier with their load well distributed.
Not only that, Ketty and Bella are interactive and eye-catching enough to capture the attention of your friends, date, and kids, allowing interpersonal connection to be closer by providing an interesting environment, as well as a topic of communication.
Turn an awkward date into a fun moment, and turn a kid's tantrum session into a Q&A session to introduce technology to the younger generation.
CLEANING ROBOTS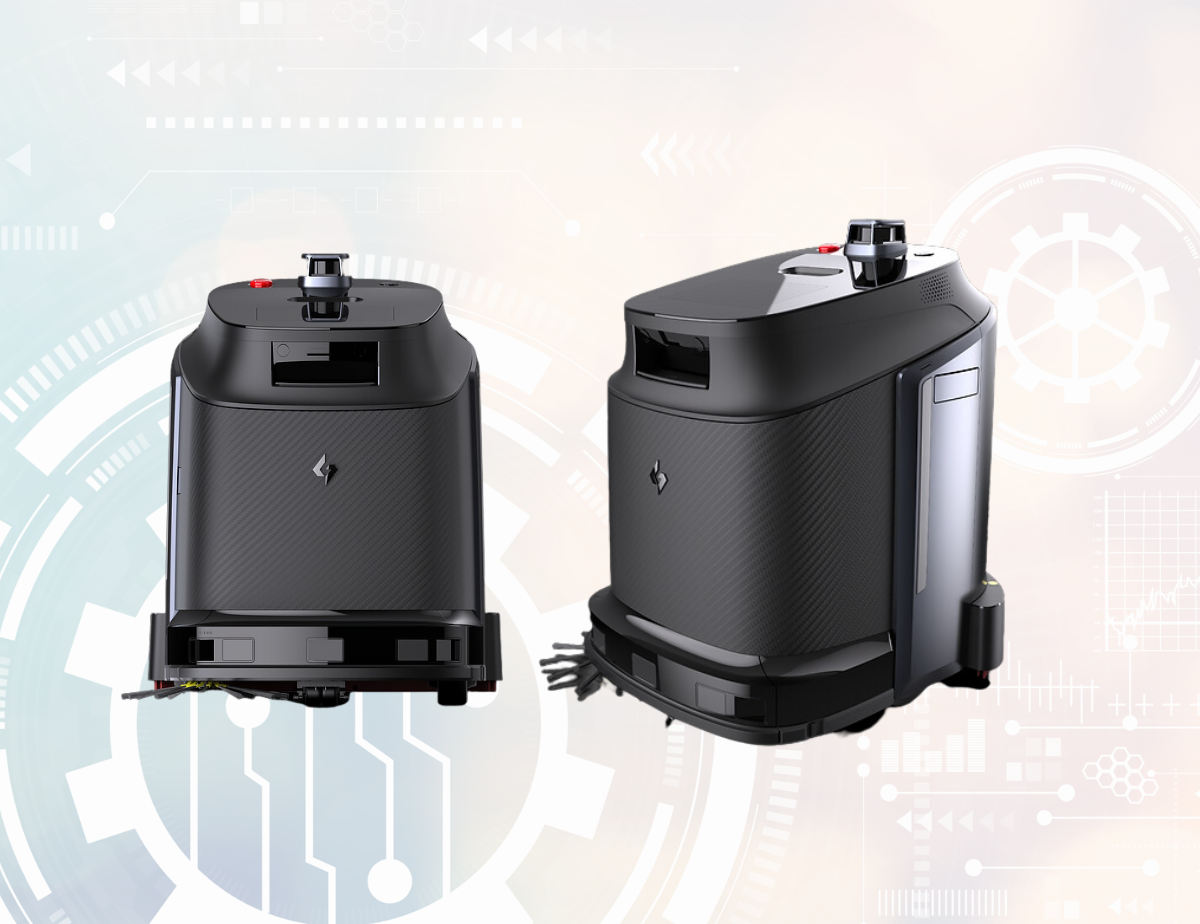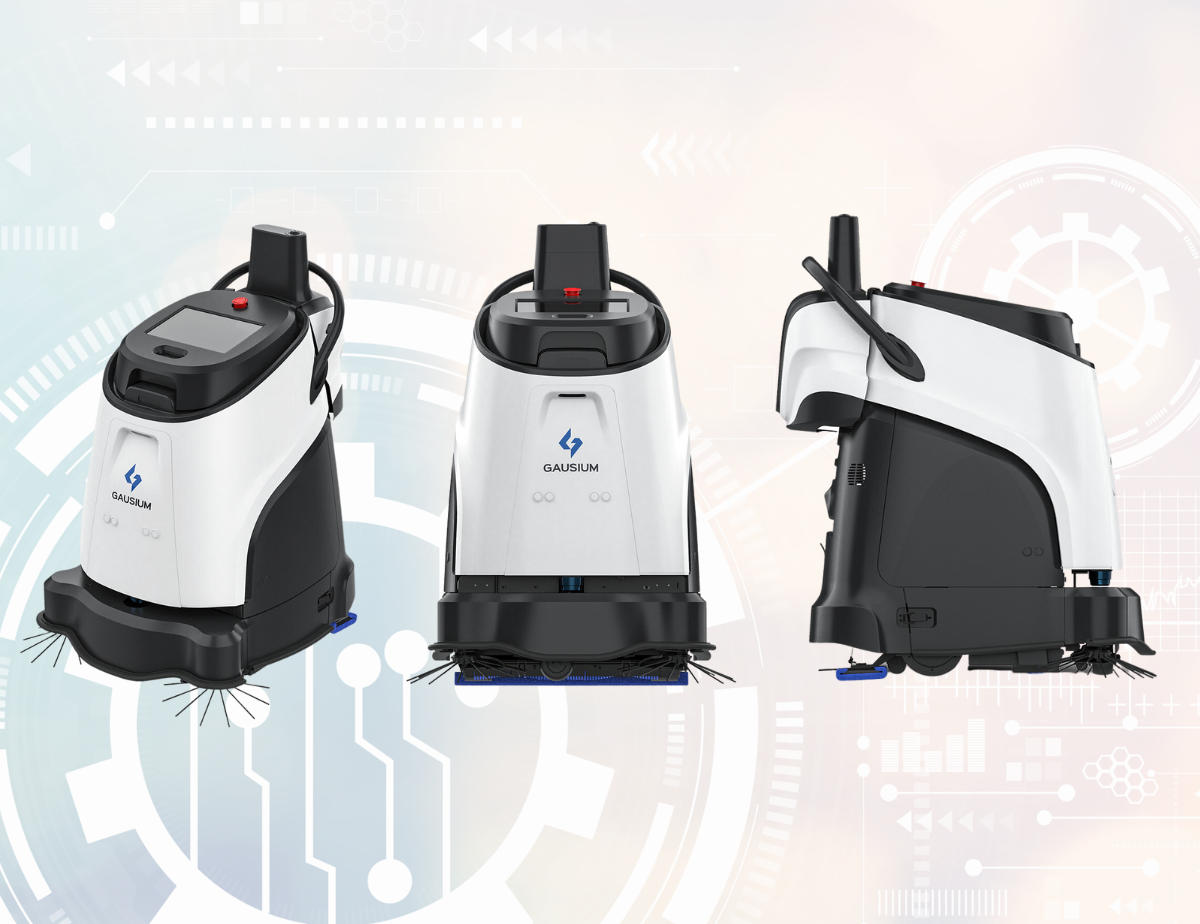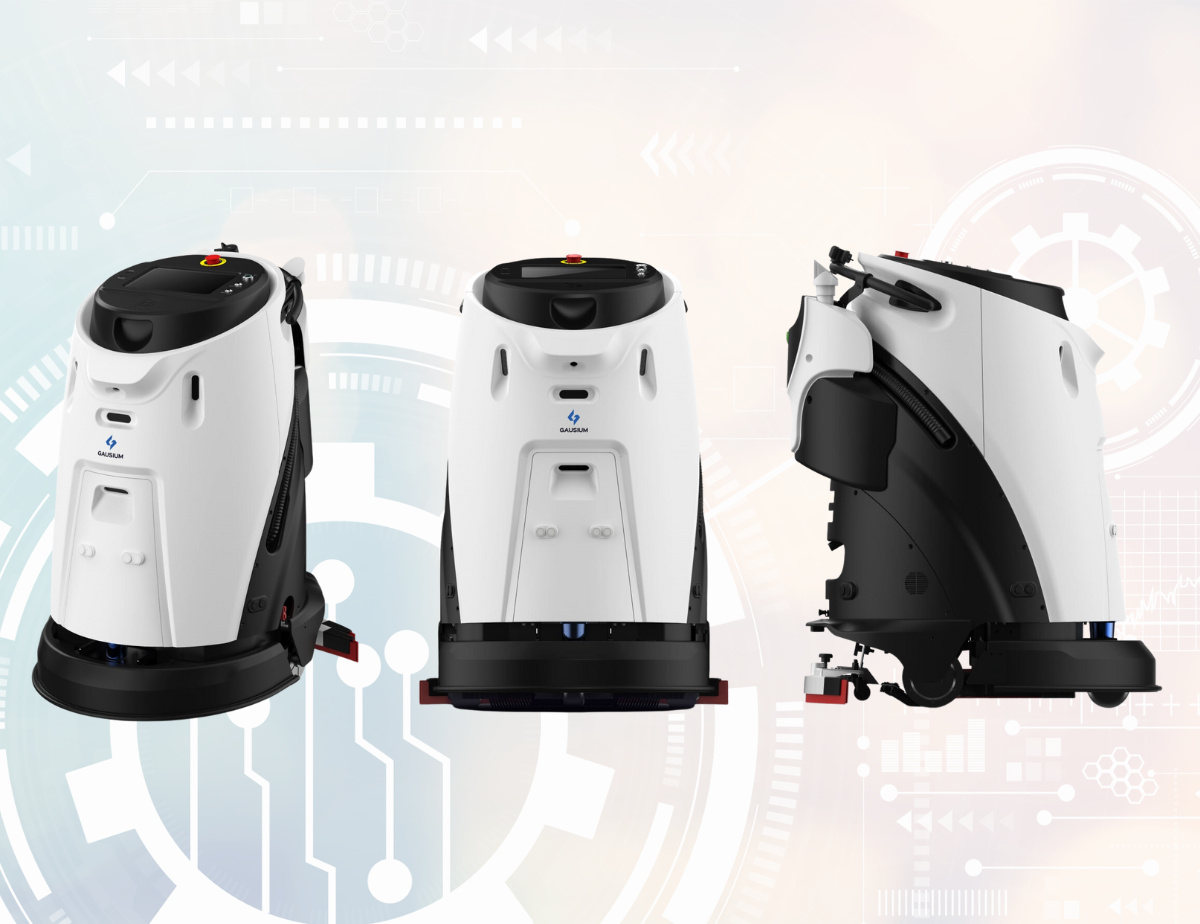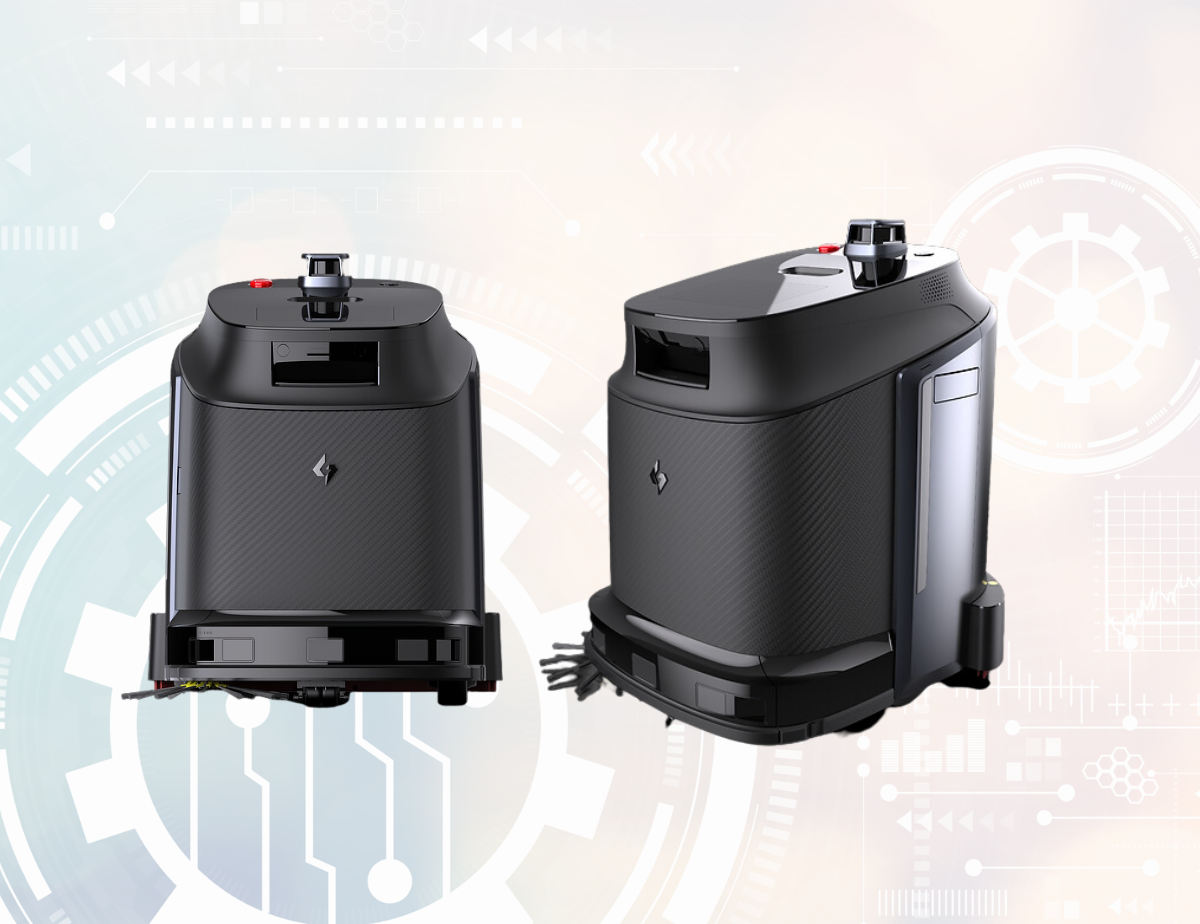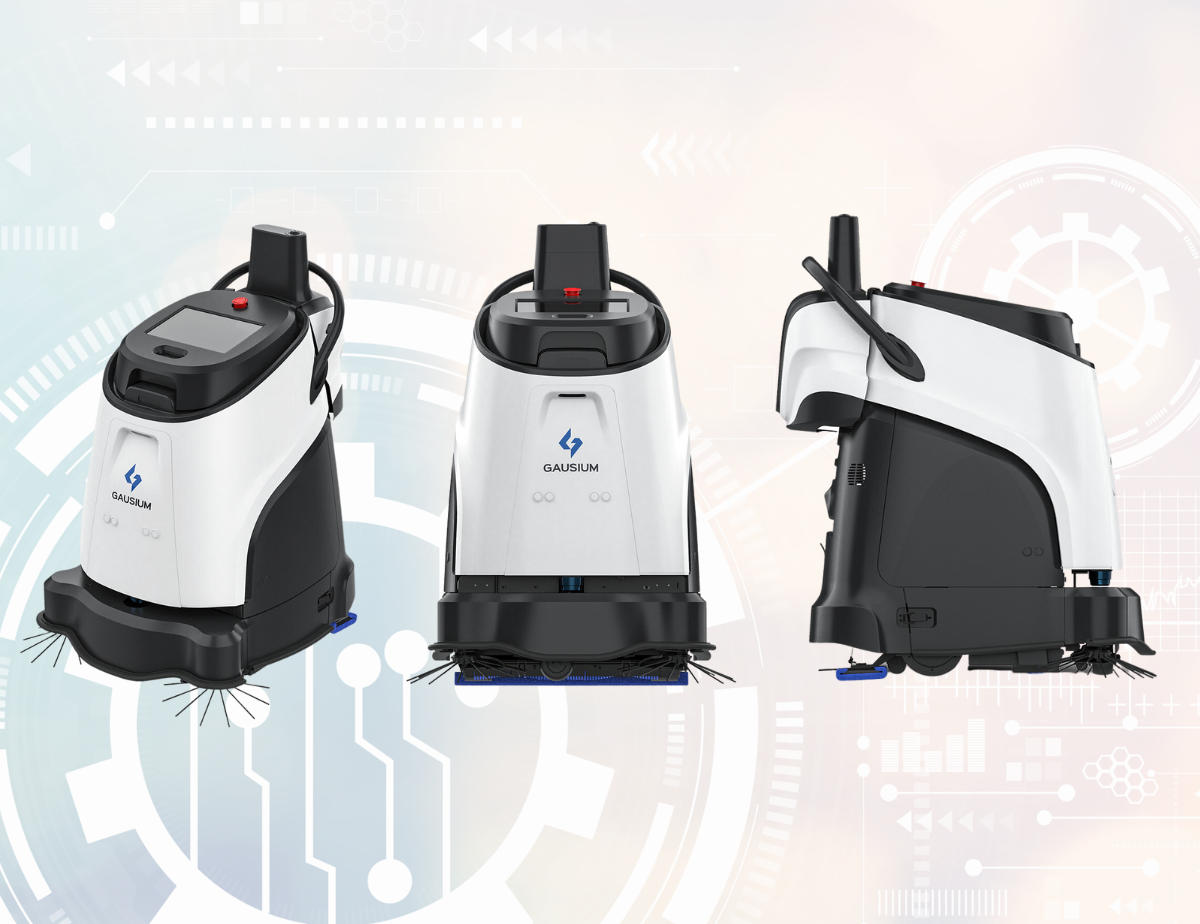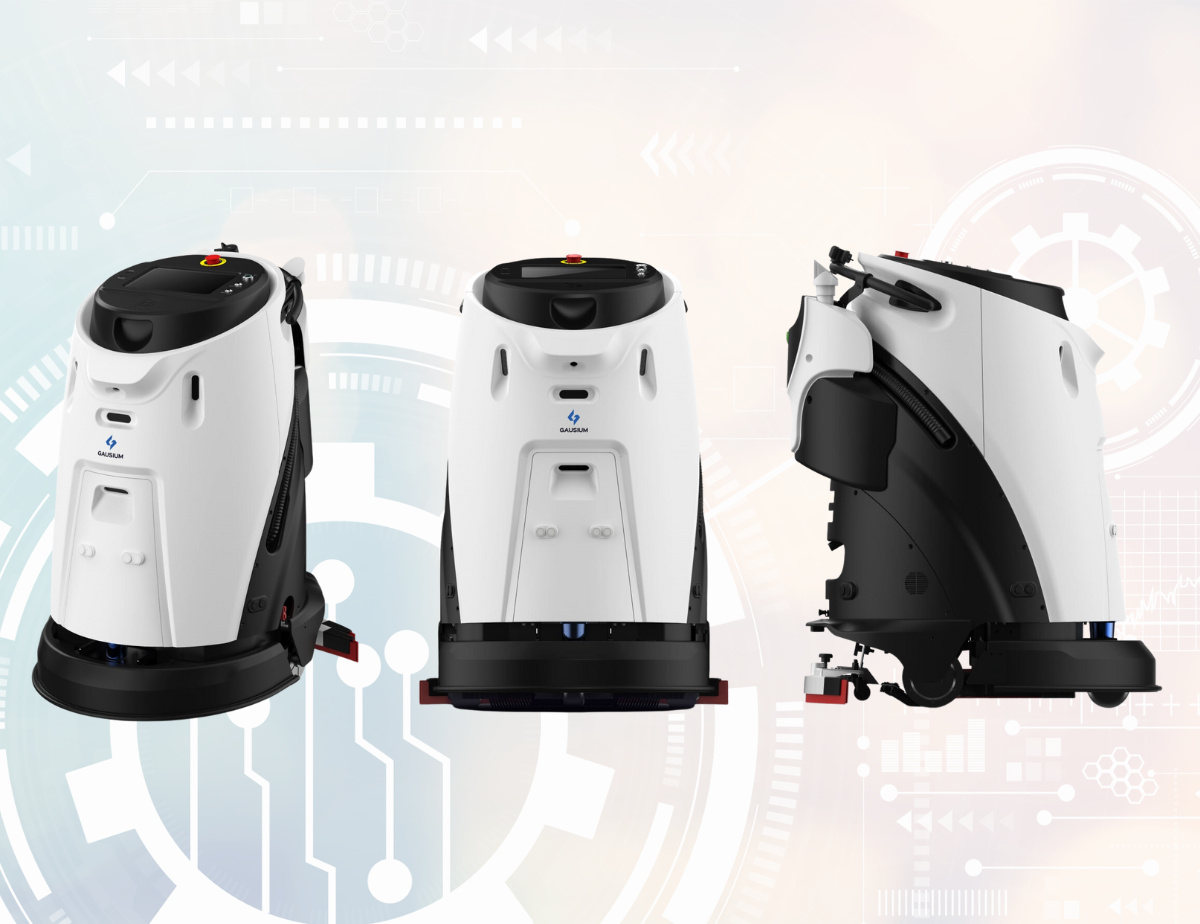 Cleanliness and hygiene have always been a huge concern in F&B related industries, where we have governmental certified ratings as well as ratings on the internet for the various eateries. It can be difficult to make sure that the floor is clean, especially when there's a huge possibility where customers may spill food or drinks.

Gausium's cleaning robots have been known to deal with such situations, and they perform the tasks well and effectively. There are even different models to cater to different surroundings, with the ranges from vacuuming, sweeping up to scrubbing, which is definitely the most ideal for places with constant grease and dirt around the floor.

Contact-less Touch Screen
Non-Contact Touch Panel Monitor enables the user to use or operate the screen of the machines without touching the screen itself with fingers because it can sense the movement of fingers or hands within 5~25mm from the monitor by irradiating the surface of the touch panel monitor with Infrared Radiation (IR). This new product can be easily installed to your existing touch panel monitors at reasonable price because it does not require replacement of monitors. The piece of Non-Contact Touch Panel Monitor will be placed on top and overlaying any of the touch panel monitors available in the market, it will function and provide the amazing contactless touch screen experience simply by connecting it with the USB and power supply. We have a diverse lineup of touch panel monitor sizes, starting from 19 inches until 55 inches, and we are open to accept orders for customized sizes other than the lineup too.
People are getting anxiety on infection and has higher consciousness on infection prevention due to the Covid-19 pandemic nowadays. Our Contactless Touch Panel Monitor is the right solution for companies, business entities and premises which are facing and having needs in reducing the anxiety and enhancing the infection prevention of their customers and employees.

< Product Line-Up >
▼19-inch
Bezel Size(428.8W X 354.8H), Active Touch Area(378.0W X 303.0H)
▼21.5-inch
Bezel Size(523.6W X 314.6H), Active Touch Area(476.6W X 268.2H)
▼27-inch
Bezel Size(644.6W X 380.6H), Active Touch Area(596.8W X 335.7H)
▼32-inch
Bezel Size(743.5W X 441.0H), Active Touch Area(697.7W X 392.3H)
▼43-inch
Bezel Size(1011.6W X 599.6H), Active Touch Area(965.3W X 523.3H)
▼55-inch
Bezel Size(1255.1W X 727.0H), Active Touch Area(1209.6W X 680.4H)

< Suitable for >
▼ Installation on ticket vending machine of F&B and public facilities like train stations
▼ Installation on shopping mall directory and office building directory
▼ Installation on the POS monitor of restaurants and retail stores etc
desknet's NEO

Desknet's NEO is one of the collaborative group software out there that provides a category of tools and platforms that facilitate teamwork and communication among team members. These software solutions are designed to enhance collaboration, streamline workflows, and improve productivity.

Some of the key features of Desknet's NEO include:

Communication Tools: There are various tools, such as NEO Tweets, Direct Message, and Information Announcements in this groupware, allowing communication between employees to be done easily, as well as to have top management to be able to disseminate information among employees.

File Uploads: File management can be done easily and saved for easier future access. Not to mention that documents that require approval from various levels can be escalated accordingly as long as the path flow is set. Leave approval, budget approval, etc. can now be completed quickly.

Calendars and Scheduling: Shared calendars are extremely important if we require members of various departments to get together for a particular project. This facilitates effective time management, avoids scheduling conflicts, and ensures that everyone is aware of important events and milestones.

Overall, Desknet's NEO empowers teams to work together more effectively, fostering communication, coordination, and productivity. By providing a centralized platform for these tasks, workflows are streamlined and teamwork can now be seamless, regardless of physical location.
- Software Development -
As our policy, We not only provide our developed software for automation/self-service but also want to help your operation improvement (including not related automation/self-service as well).

If you consider new software/system development for your business, please feel free to discuss with us.
【Integration】Can ASTA ordering products integrate with current POS system ?
Yes basically, but depends on the POS specification.
Even if cannot integrate, we can propose stand-alone operation with our products.
【Integration】We don't use any POS or use too old POS. Can we install ASTA ordering products ?
In that case, we can introduce our POS partner company or propose stand-alone operation with our products.
【Software】Can ASTA products switch various languages ?
Yes, you can choose up to 4 languages.
【Software】Can we customize E-menu screen design ?
Yes, you can customize screen design freely.
【Software】Can we play ads or videos in the screen ?
Yes, videos and images available.
【Software】Can we do own menu edit to E-menu ?
Yes, an easy editing tool will be provided.
【General】We don't have sufficient budget.
We can provide various kind of solution which can fit your budget.
【Software Development】Can I ask system development which not related F&B ?
Yes, you can ask any kind of software development.
DOWNLOAD
Product Catalogue
Key in your email address, we will had it send to your inbox