Efficiently handle large volumes of reception procedures
This system incorporates expertise gained from many years of providing efficient reception system for applications ranging from university hospitals to small clinics. The development of system solutions that look ahead to future needs of users results in fast and total support for medical institutions while executing the automated operation to every section.
The problems
Patients often wait too long due to many procedure in hospital and they have no choice but to wait as they are not aware when is their turn.
Long queue and crowding at hospital registration counter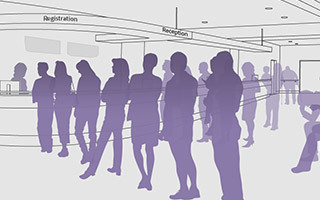 Insufficient receptionist to accommodate large numbers of patients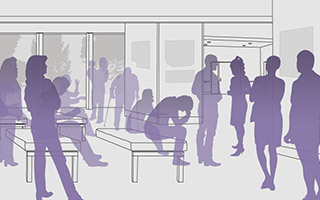 Annoyance caused by patients' inability to know how long to wait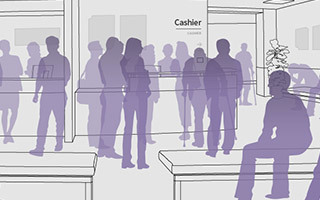 The asta solution
Automatize the whole process of Registration - Waiting & Calling - Payment - Medication
Installing Registration Kiosk to complete registration by patient's own
By Queue Number Display, all patients' queue status in the hospital can be checked.
Installing Payment hospital Kiosk to reduce the time for counting bill and payment procedure


PRODUCT LIST
Registration Kiosk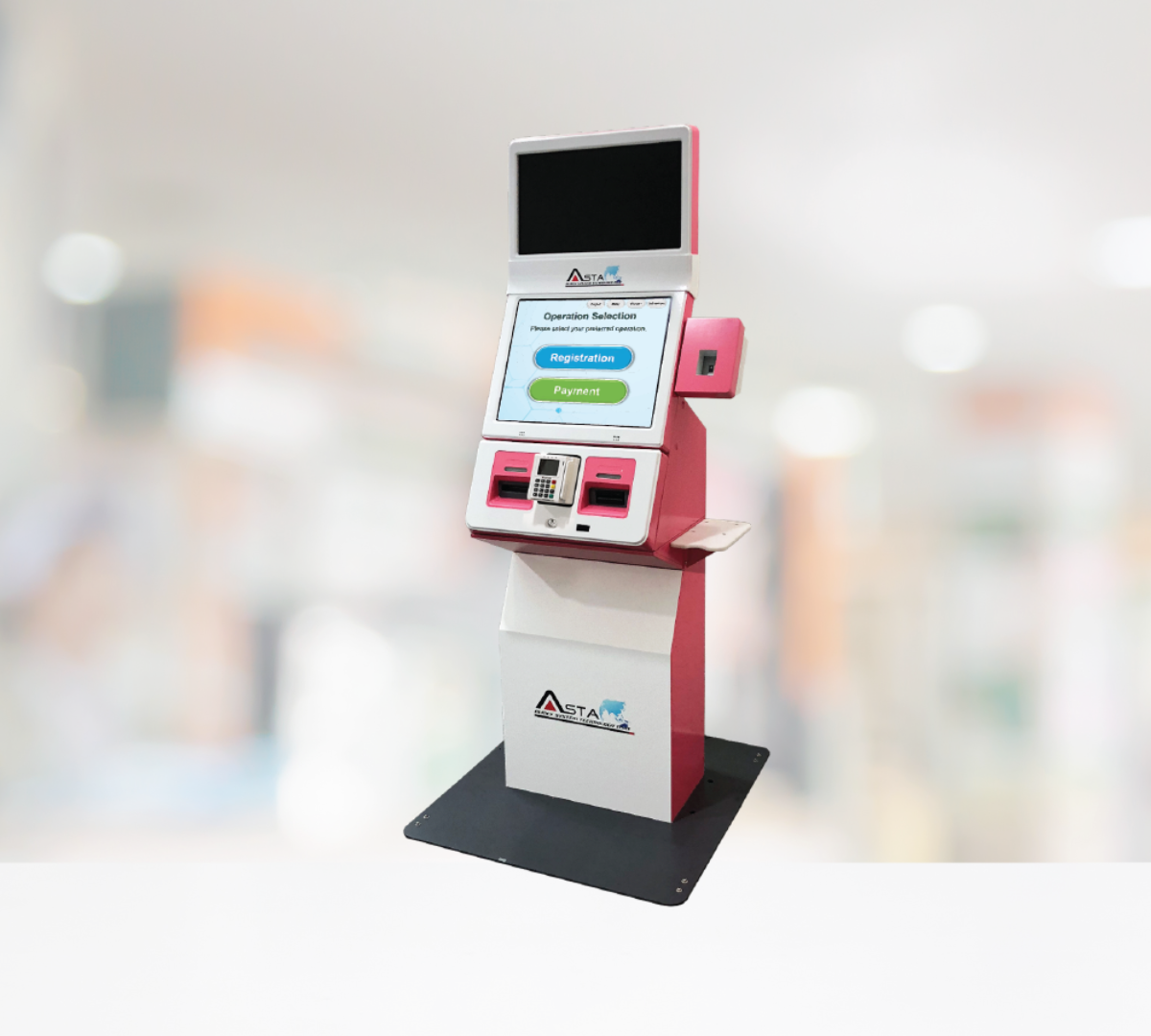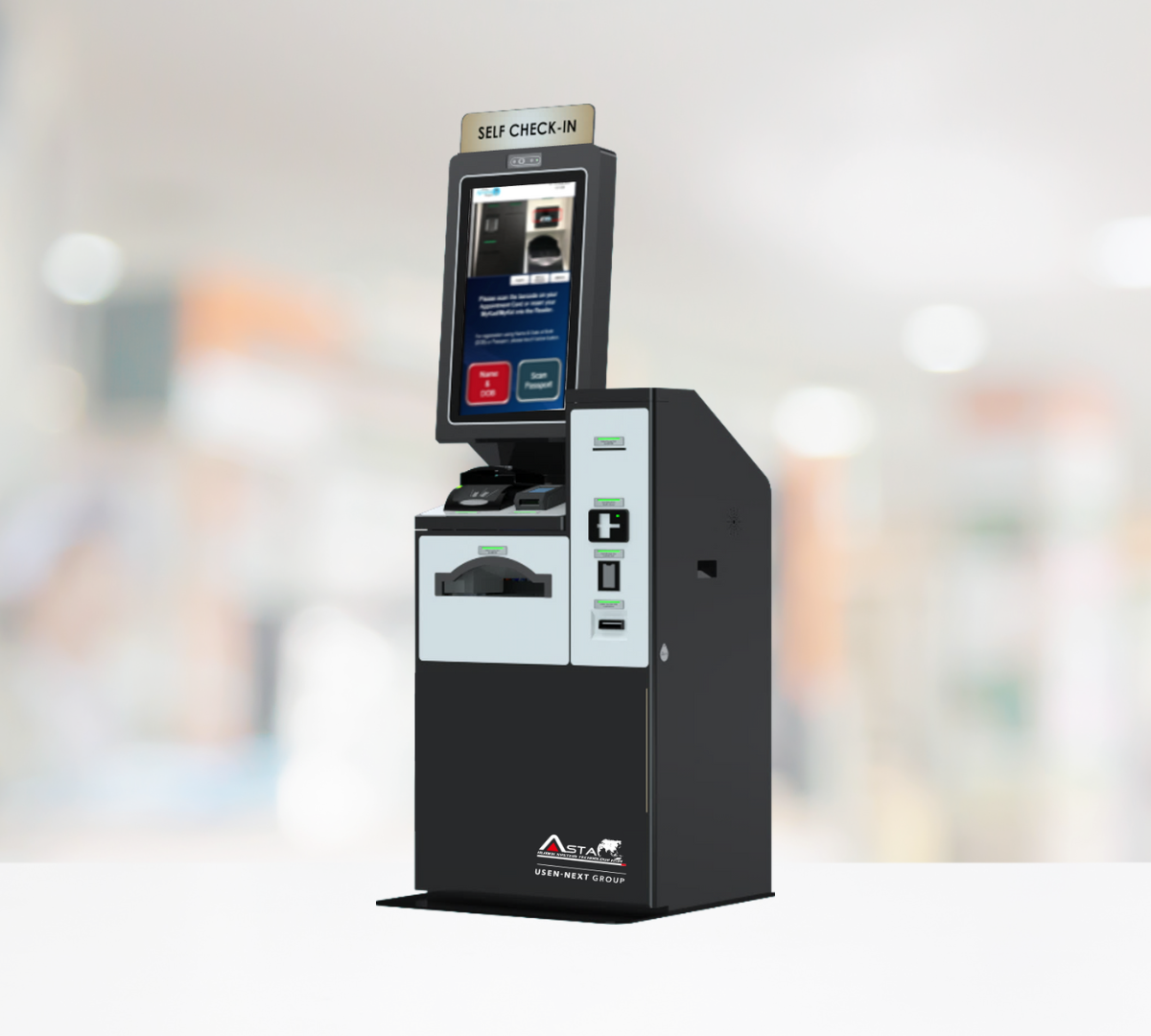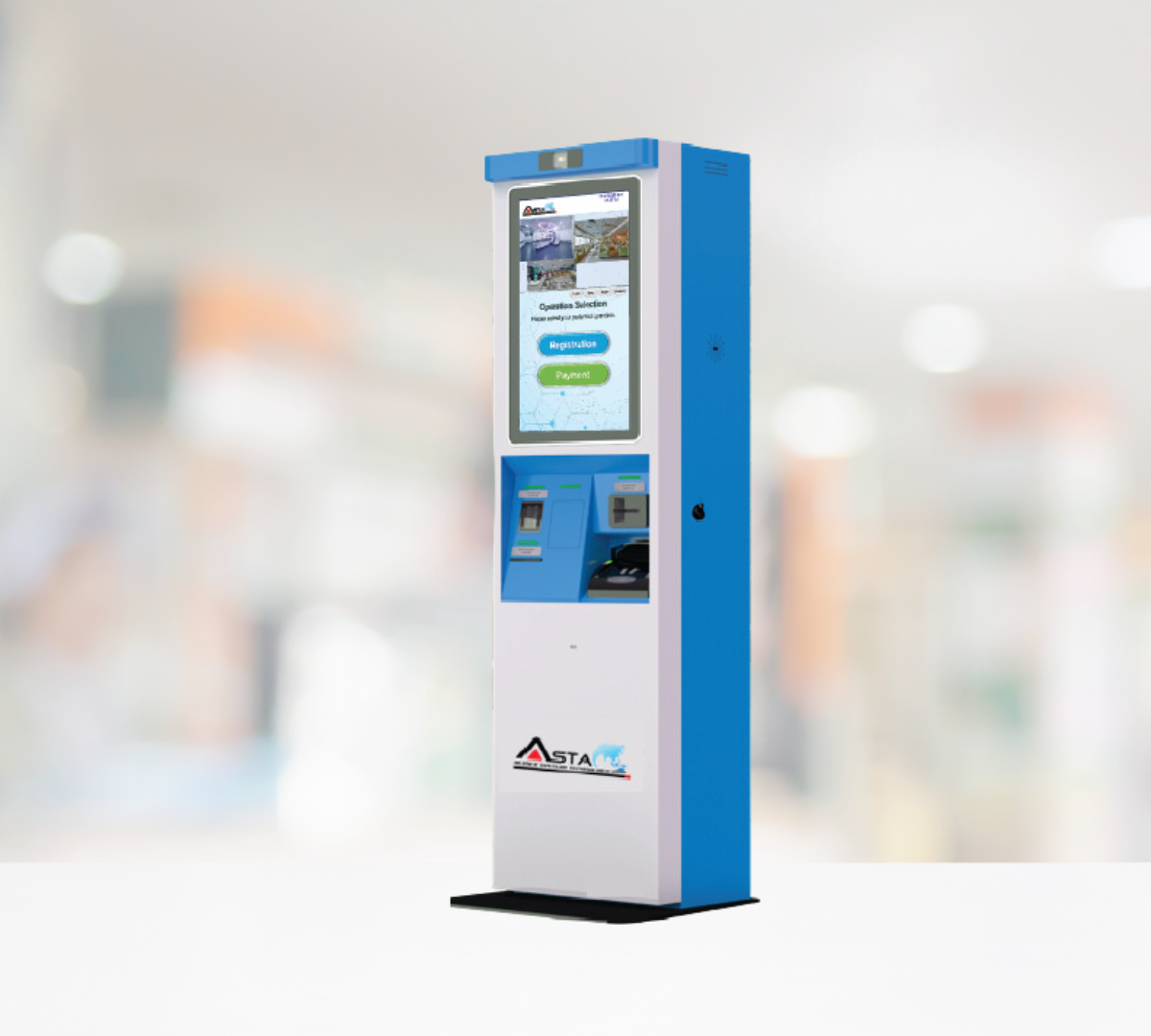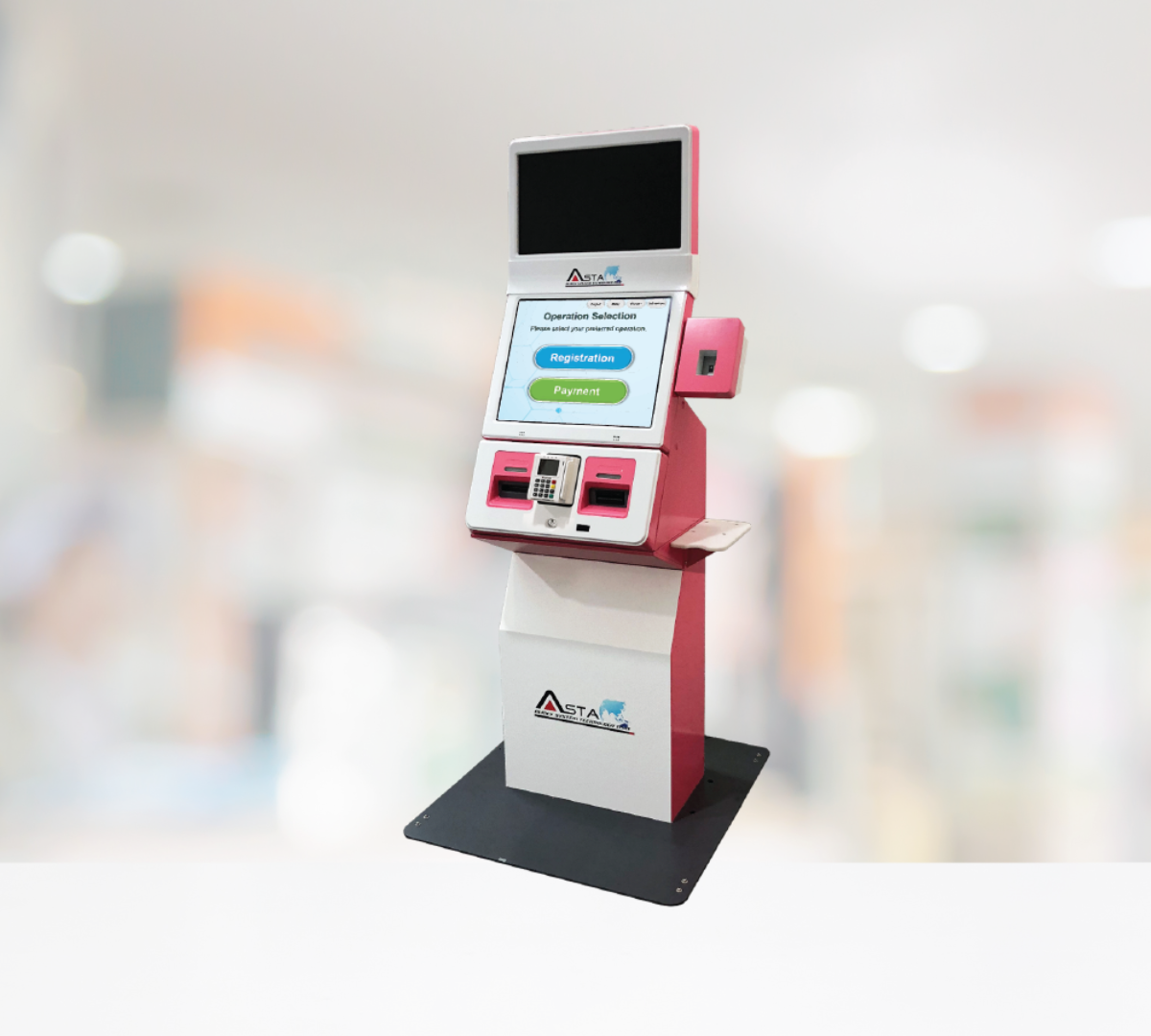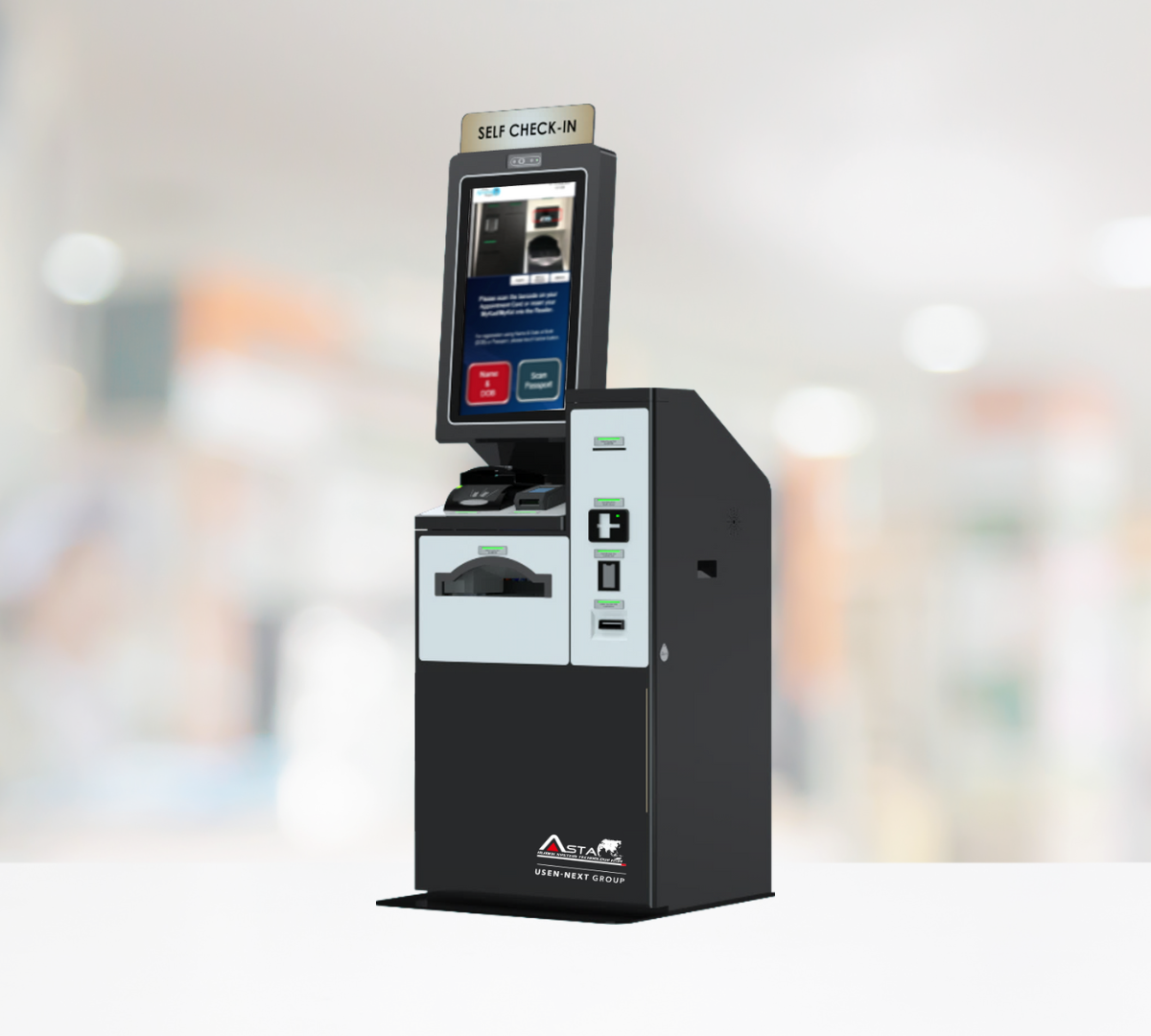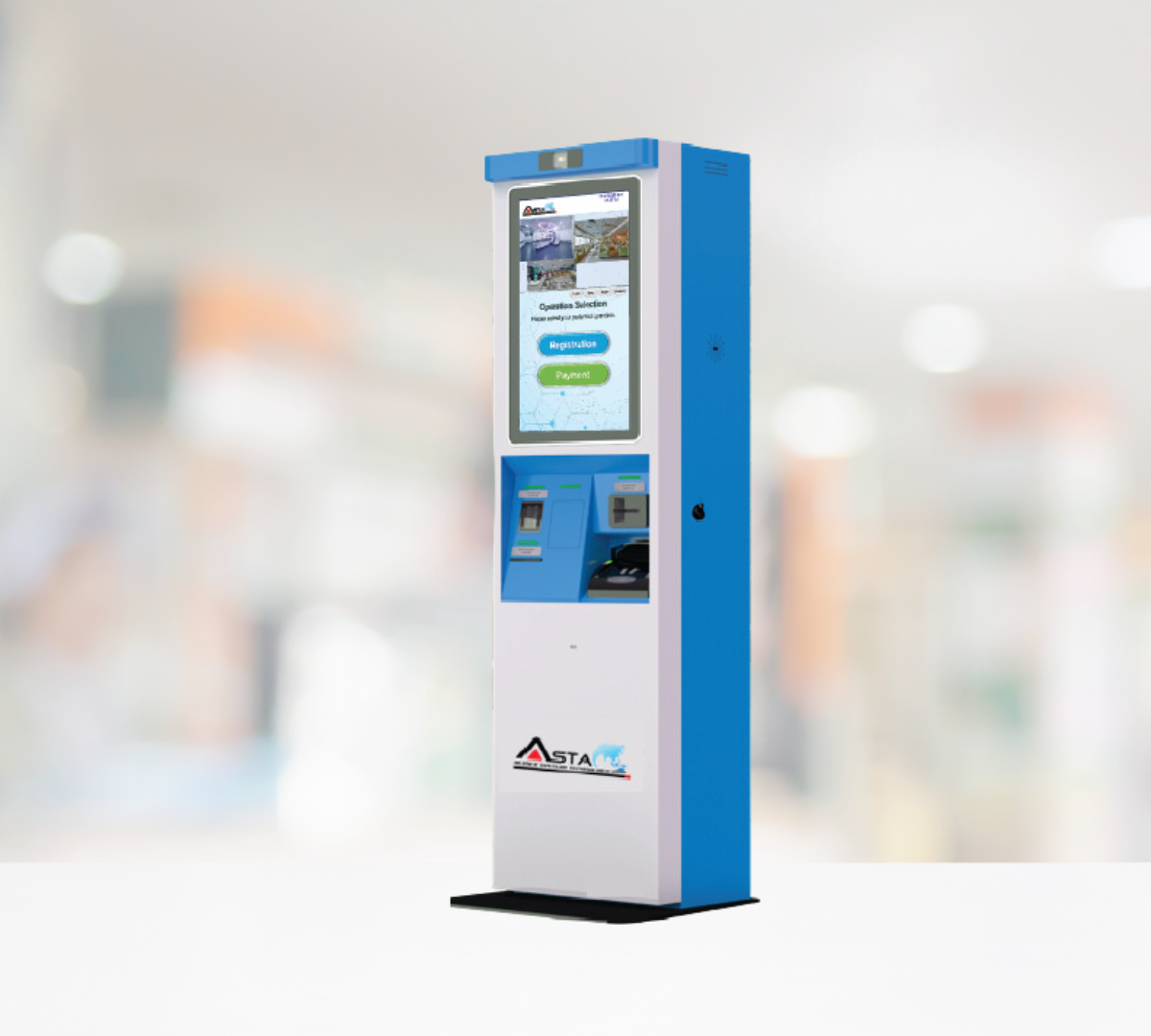 Automated registration system lowers patient's waiting time and enable them to complete the process on their own.
Outpatients receive a reception number automatically by simply inserting an hospital ID card or scanning identification.
Automating this procedure helps reduce workload of receptionists. Also, consultation fee can be paid by credit card or QR.

Devices equipped are listed below.
- Second monitor for advertisement
- LCD touch panel monitor
- Barcode & QR scanner
- Thermal Printer
- Credit card terminal
- ID card reader
- Passport Scanner (Optional)
Screen Sample (Registration)
Select Data Search Method
Enter DOB(if you select 'DOB' on the previous step)
Search Result and Select your name
Today's appointment confirmation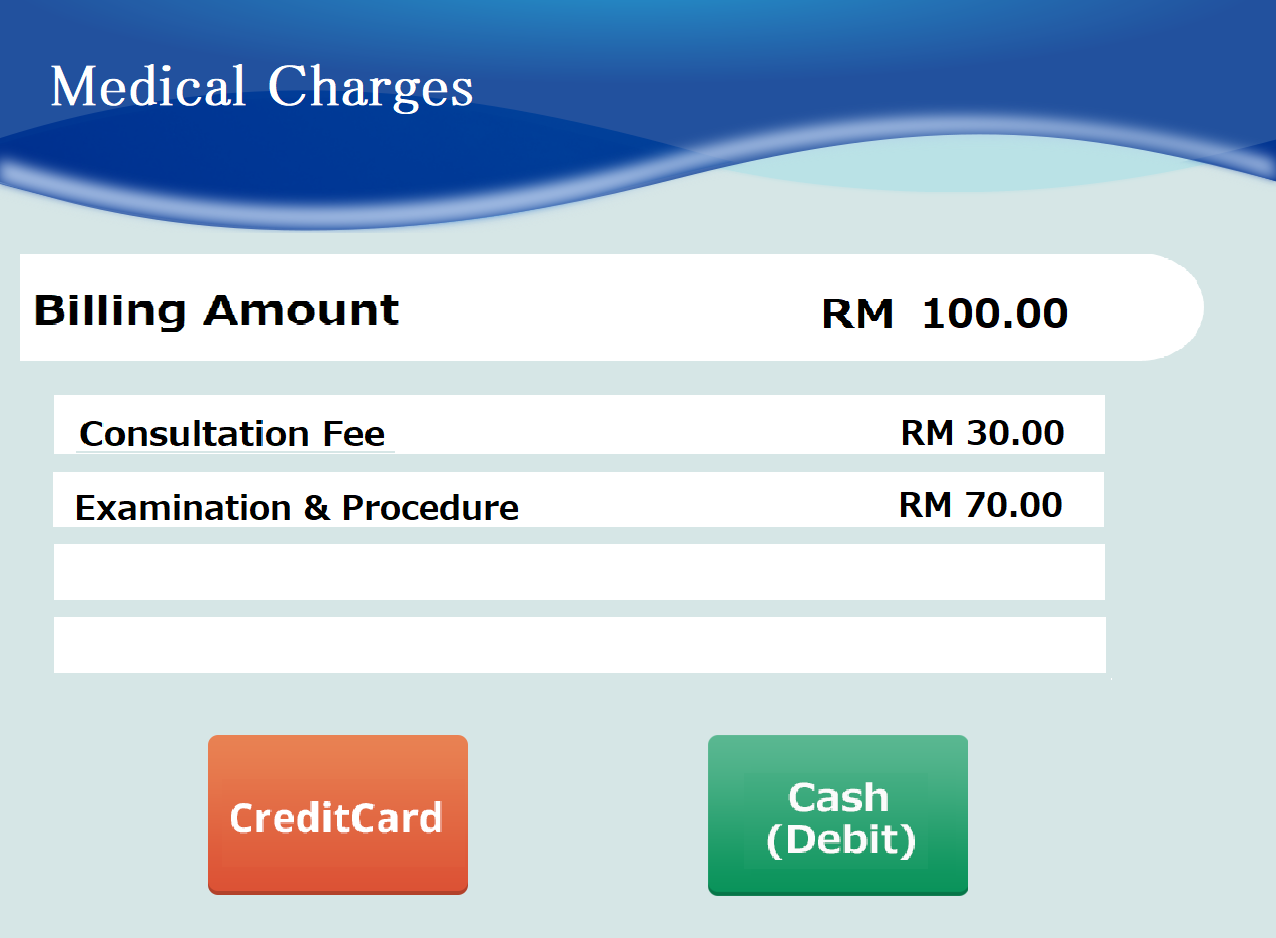 Select Payment Method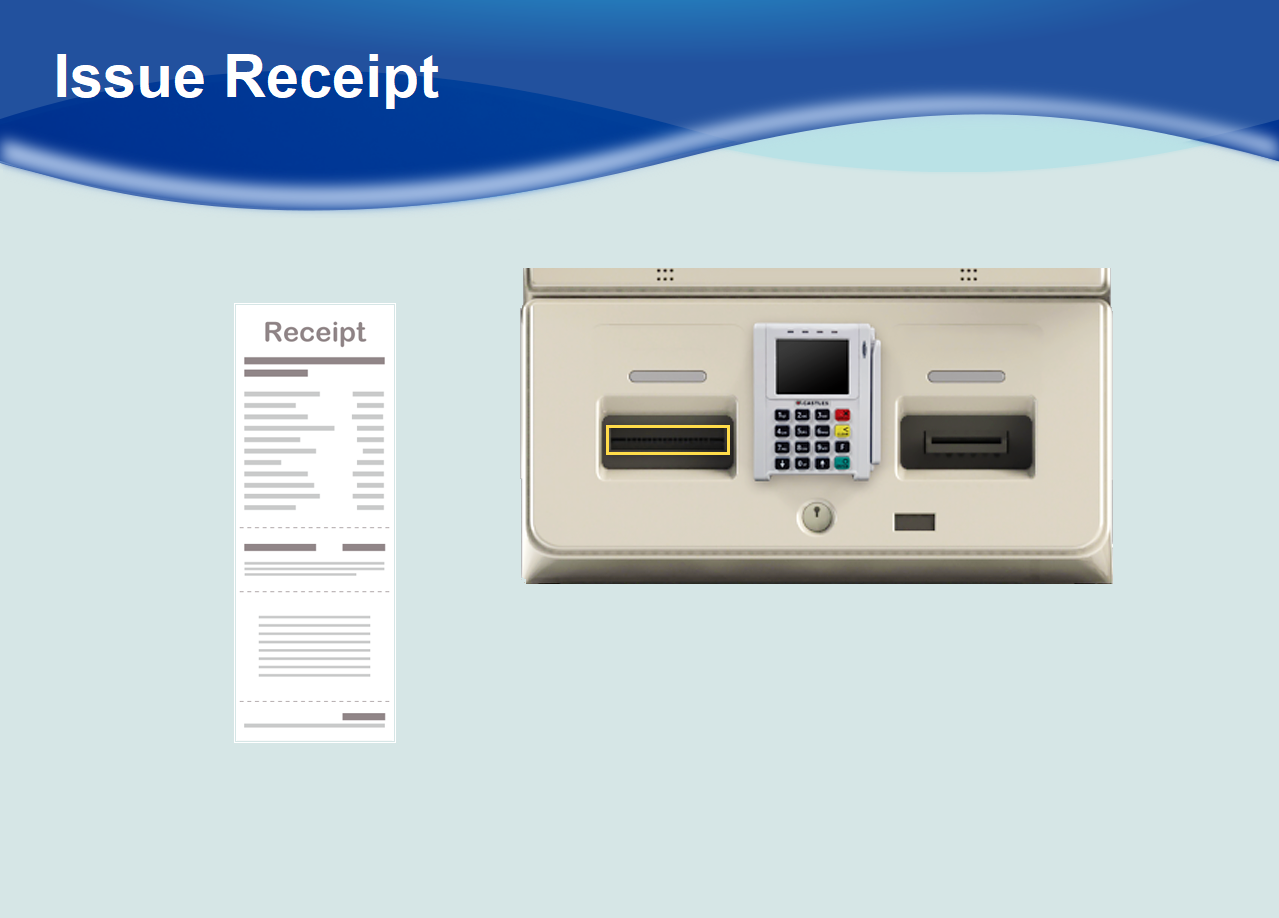 Issue receipt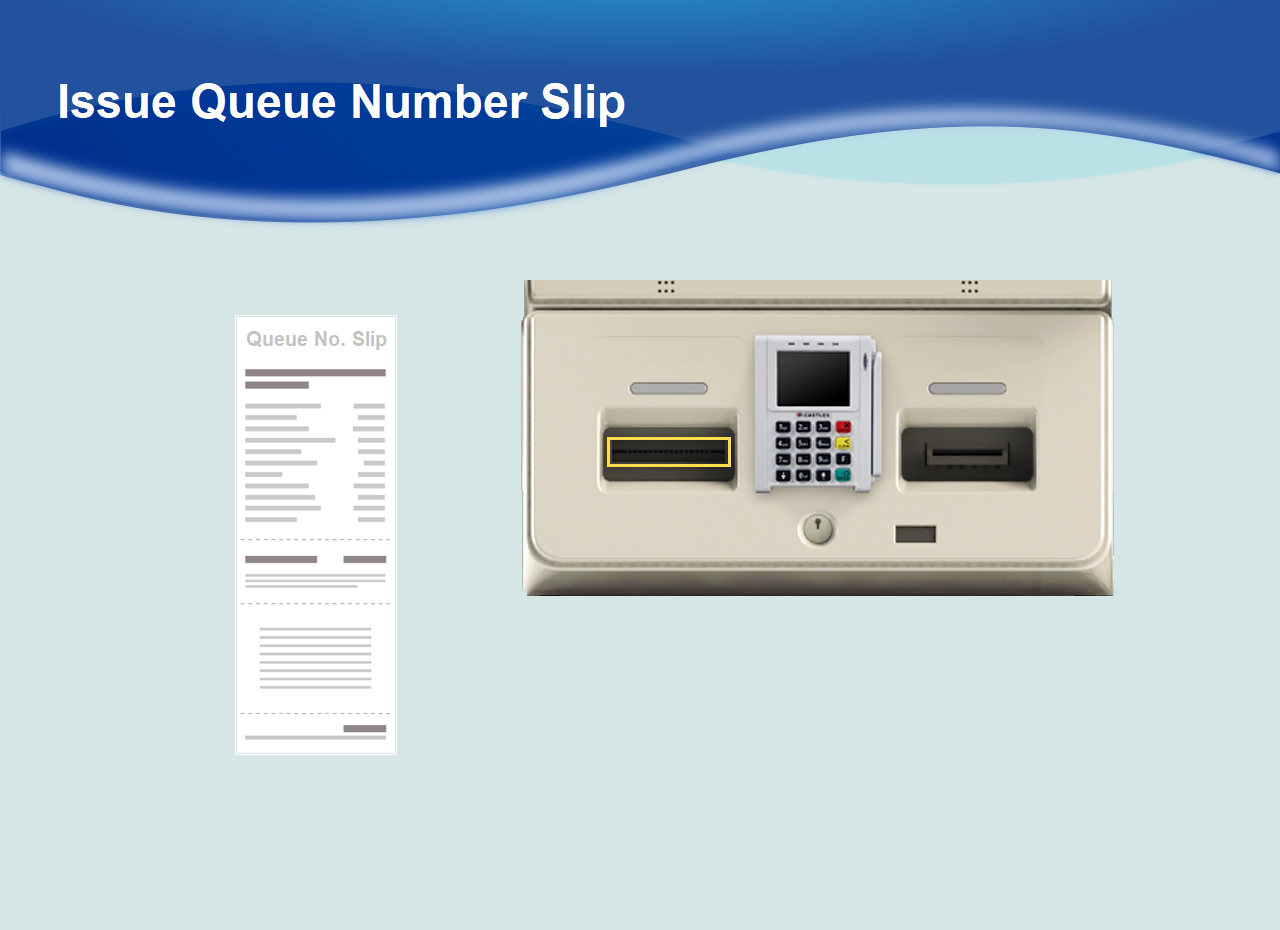 Issue Queue Number slip
Payment Kiosk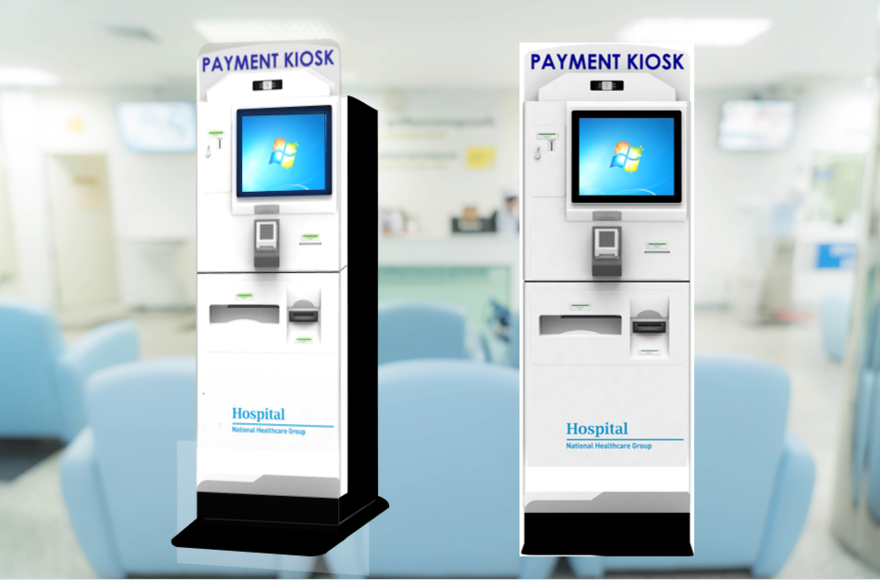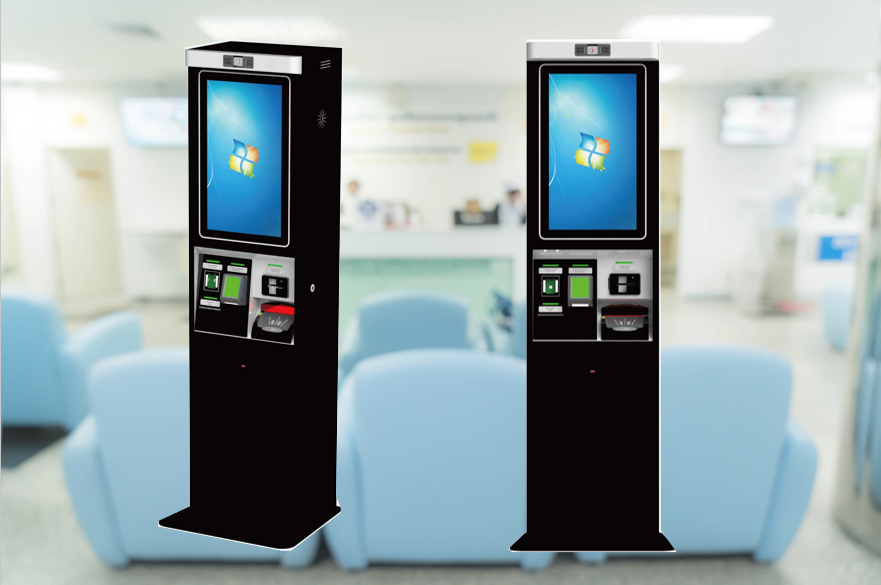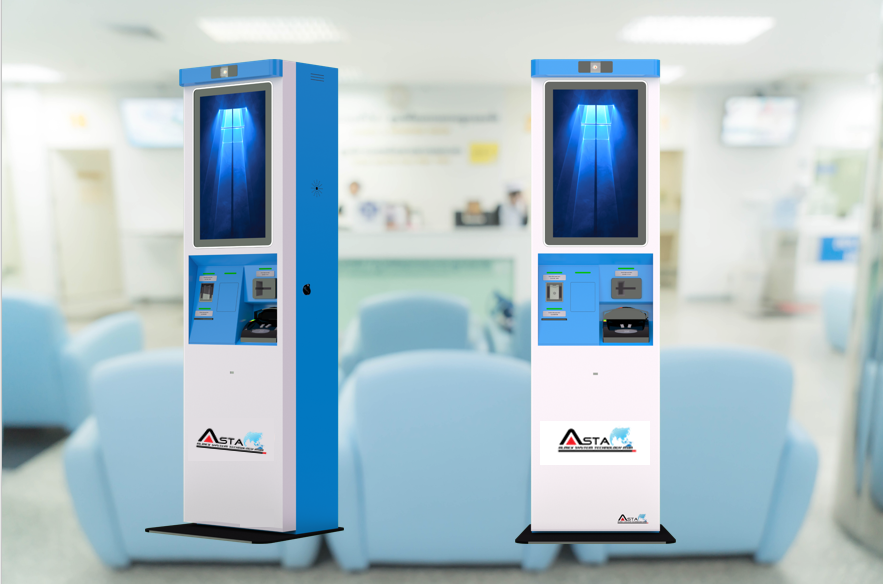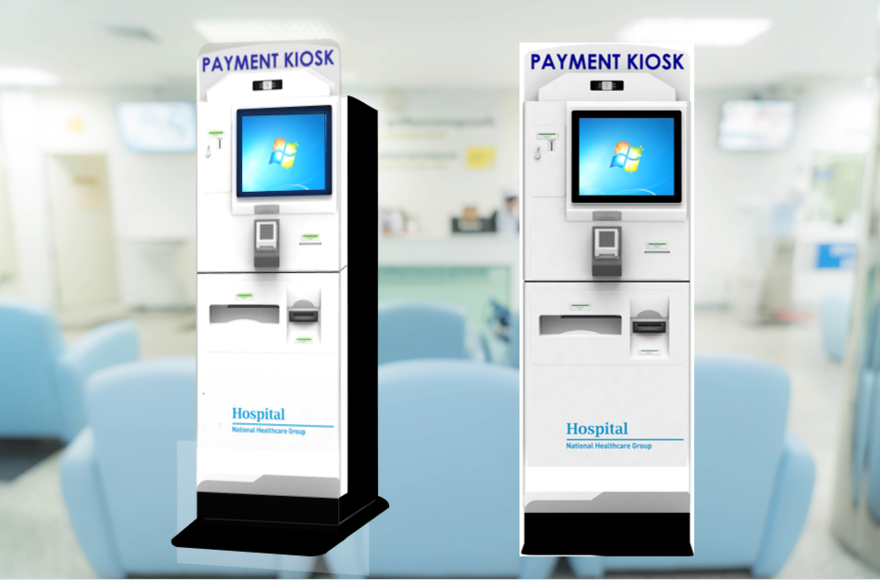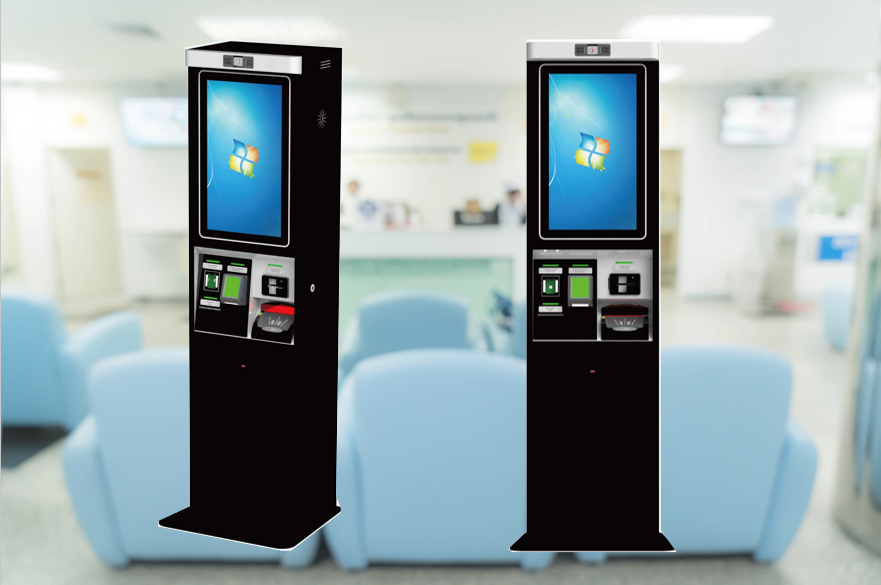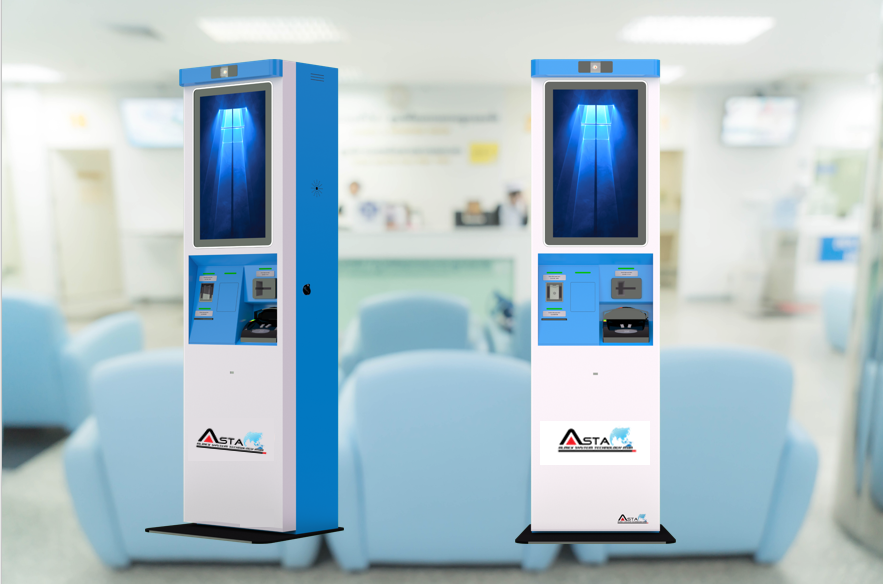 Automated registration system lowers patient's waiting time and enable them to complete the process on their own.
Patients can pay by credit card QR, cash as well. With kiosk, they can complete all process together.

Devices equipped are listed below.
- LCD touch panel monitor
- Barcode & QR scanner
- Thermal Printer
- Credit card terminal
- ID card reader
- Passport Scanner (Optional)
- Cash Note Dispenser (Optional)
Screen Sample (Payment)
Select Payment
Select Data Search Method
Scanning Patient ID card (if you select 'Patient card' on the previous step)
Billing Amount Confirmation
Payment
Issue receipt
Queue Management System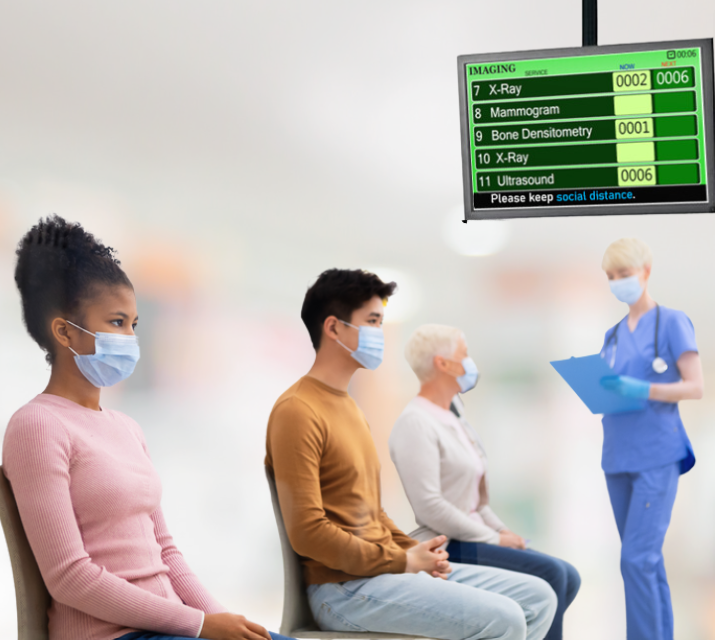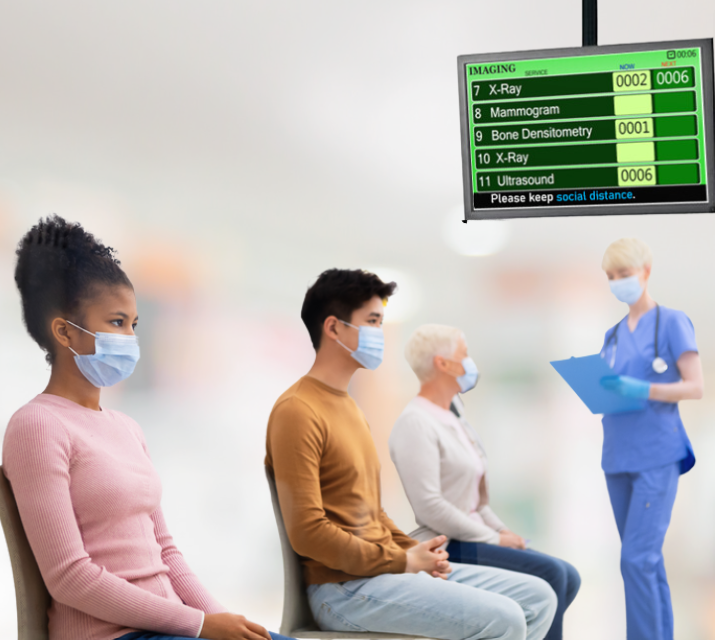 This system diplays queue numbers so that staffs do not need to announce and can guide patients to their assessment / consultation rooms smoothly.
Patients can know how much longer should wait and the operation flow in each waiting area become more efficient.
This system can be used for consultation queue system, payment queue system, billing queue system as well.
Mobile Application (MyKlinik, Sma-pa)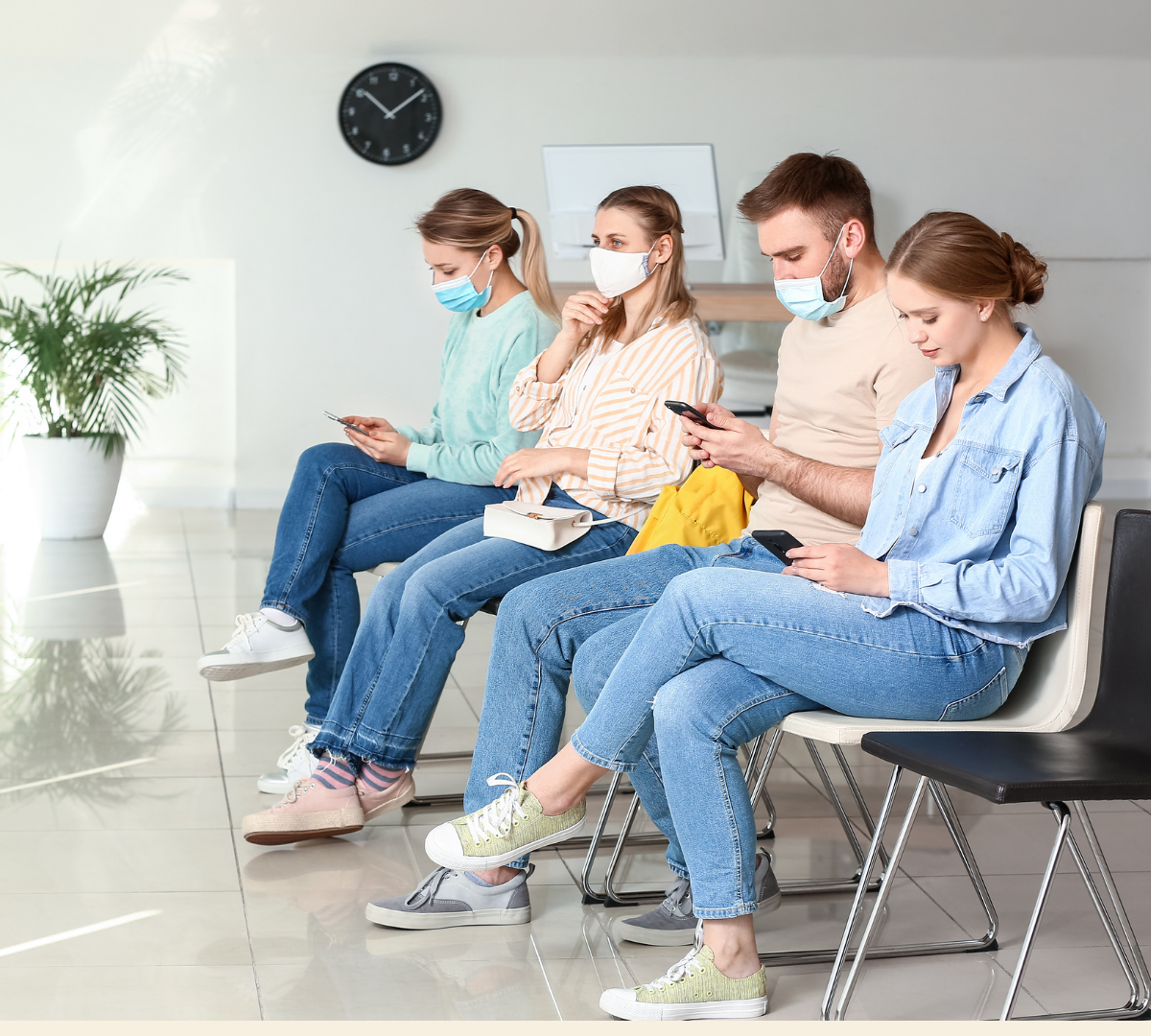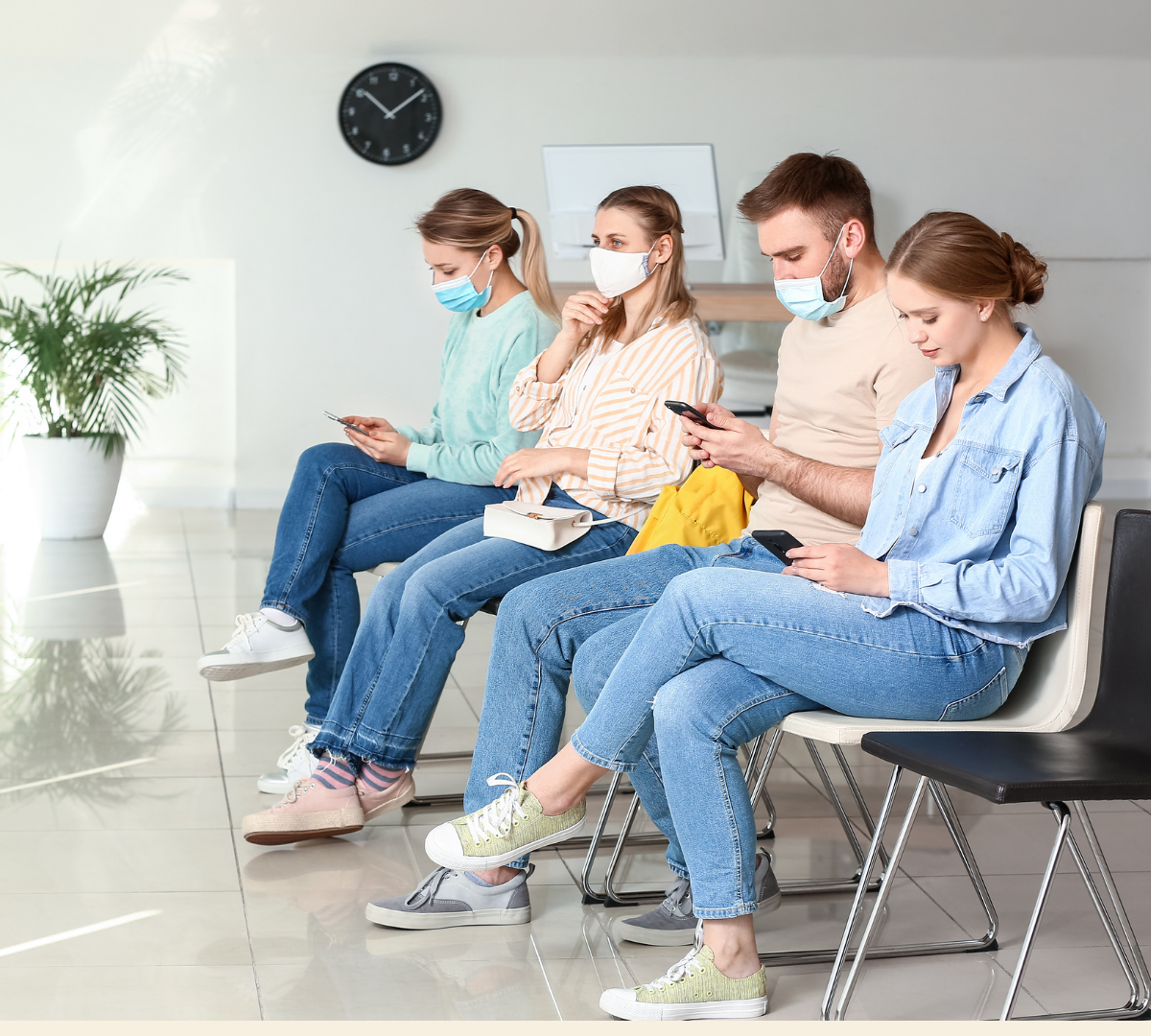 Mobile Application with 2 main function as below.

1. Make Appointment to Hospital Visit
Out-patient can make appointment to Hospital Visit and complete payment.
And then issue QR code to register faster at arrival to Hospital.

2. Support of Queue Management System
This is connected with onsite queue system always so that patients can check their status by their mobile phone and able to manage their time easily.
SAFETY POINT (Tabletop Vending Machine)
SAFETY POINT is a Tabletop Vending Machine developed with social contribution in mind, in order to support public health protection against COVID-19.
With only a small footprint, the non-refrigerated machine can accommodate various protection materials such as masks and sanitizing gel that are required for daily safety precautions.
A simple design with an intuitive function, this vending machine is suitable for the reception area of hospital entrance or lobby, each floor public space to provide an additional products for the patients.

Patients can get necessary items anytime (24/7).
For safety, it is no need to communicate with hospital staff and ready-to-connect with NFC payment allowing the contactless transactions.
Hospital will improve their safety-standard and high hospitality.
- Software Development -
As our policy, We not only provide our developed software for automation/self-service but also want to help your operation improvement (including not related automation/self-service as well).

If you consider new software/system development for your business, please feel free to discuss with us.
【General】Can our current reception counter's registration, all be automatized by ASTA Kiosk ?
Possible, we will study your current flow first and then suggest the most appropriate and cost effective automation solution.
Our sophisticated Kiosk function can cover your receptionist task and responsibility.
【General】We don't have sufficient budget.
We can provide various kind of Kiosk Models which can fit your budget.
Or we can install only our software into hardware devices that you arrange by yourself to save your cost.
【Integration】Can ASTA Kiosk integrate with our current HIS (host system) ?
Yes basically, but will depends on the HIS specification.
【Integration】We use too old HIS or Appointment Management system. Can we install ASTA Kiosk ?
Yes, we can offer our own Simple Booking system developed for Kiosk usage.
【Software】Is language selection on the screen and voice guidance available ?
Yes, you can choose freely up to 4 languages (you can increase optionally).
【Software】Can I customize the screen design and flow for hotel's concept ? Can I display Hospital LOGO on the screen ?
Yes, we can develop and customize them.
We will discuss about them for collaboration between your requirement and our knowledge/experience.
【Hardware】Can ASTA Kiosk's color or design be modified to match our hotel's interior design ?
Yes, we can provide custom-made Kiosk with various design and color following your hotel concepts.
【Payment】What kind of payment method can patients use ?
They can use Credit Card settlement and E-wallet(QR) settlement as standard.
Optionally, we can add cash payment device and function.
【Software Development】Can I ask system development which not related hospital ?
Yes, you can ask any kind of software development.
DOWNLOAD
Product Catalogue
Key in your email address, we will had it send to your inbox