2021/09/09
Event
Hotel
Food & Beverage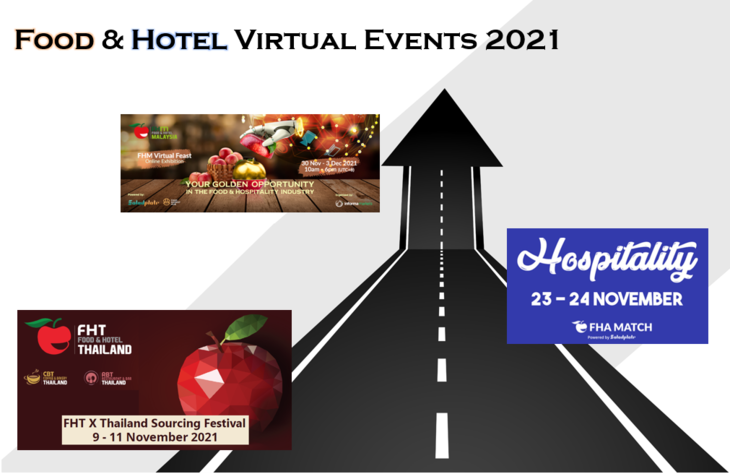 ASTA will join 3 big 'Food & Hotel' virtual events in South-East Asia countries (Thailand, Asia all, Malaysia).
1. FHT X Thailand Sourcing Festival
Date : 9-11 / November
URL:
https://www.foodhotelthailand.com/food/2021/en/index.asp
The events powered by an AI platform will drive connections forged through data-driven recommendations and bespoke meetings, enabling suppliers and buyers in the hospitality and food community to unlock new opportunities and breakthrough barriers to drive business growth across old and new markets. Many digital offerings are in place to help our clients stay connected with the market and to reach out to a wider audience community.
2. FHA MATCH Hospitality
Date : 23-24 / November
URL :
https://www.fhahoreca.com/fha-match/hospitality/
As a prelude event to FHA-Horeca happening next year from 10-13 May 2022, this event offers a marketplace for connecting global foodservice & hospitality suppliers with distributors, consultants, retailers and decision makers & professionals in Asia's hospitality and F&B industry - from Quick Service Restaurants and cafes, to hotels and resorts.
3. FHM Virtual Feast
Date : 30 / November – 03 / December
URL :
https://www.foodandhotel.com/
FHM Virtual Feast is a space that uncover Food and Hospitality market trends for the community to learn the growing demand in the digital world, which allows the stakeholders to showcase the latest product innovations and technologies whilst connect with global prospects.
Don't miss this fantastic opportunity to connect and reconnect with industry peers and customers, exchange ideas showcase product innovations !!