2022/03/07
Event
Hotel
Food & Beverage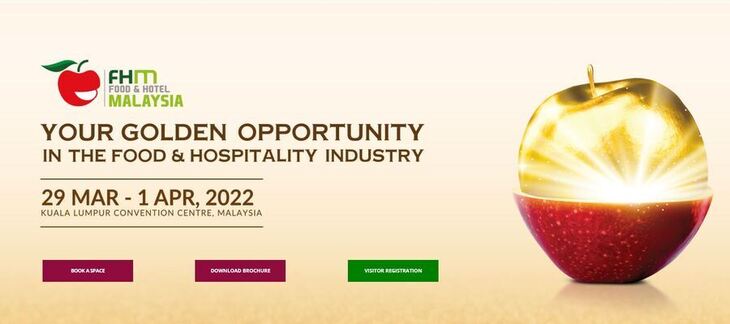 Event date
29 / Mar - 01 / Apr
Event venue
Kuala Lumpur Convention Center
The 16th edition of Food and Hotel Malaysia (FHM), Malaysia's premier trade-only food and hospitality exhibition is all set for its grand return at the Kuala Lumpur Convention Centre (KLCC) from 29 March – 1 April 2022. This special edition of FHM will be the first trade event for the food and hospitality industry in 2022.

FHM 2022 acts as an ideal avenue in paving the way for industry players to reconnect and prepare for their return to business. Targeting the Malaysian market, the four-day event is expected to draw 500 participating brands and companies as well as 8,000 quality trade buyers. The event will focus on attracting new business connections and pushing innovations in the food and hospitality community.

The special edition of FHM 2022 will feature new elements highlighting plant-based food, Industry 4.0 and biodegradable products, putting more emphasis on hygienic products and services. The event also will be accompanied by educational seminars, live cooking demonstrations by celebrity chefs, plant-based food demonstrations as well as see the return of special events such as Wine & Spirit, Pastry Innovation Lab and Culinaire Malaysia.

Jointly organised by the Malaysian Association Hotels (MAH), Professional Culinaire Association (PCA), and Malaysian Food and Beverage Executives Association (MFBEA), FHM also anticipate the return of Culinaire Malaysia, dubbed as the 'Malaysian Battle of the Chefs' with over 1,000 culinary professionals taking part to showcase their stunning skills and talents in various disciplines and categories.