2020/01/22
Food & Beverage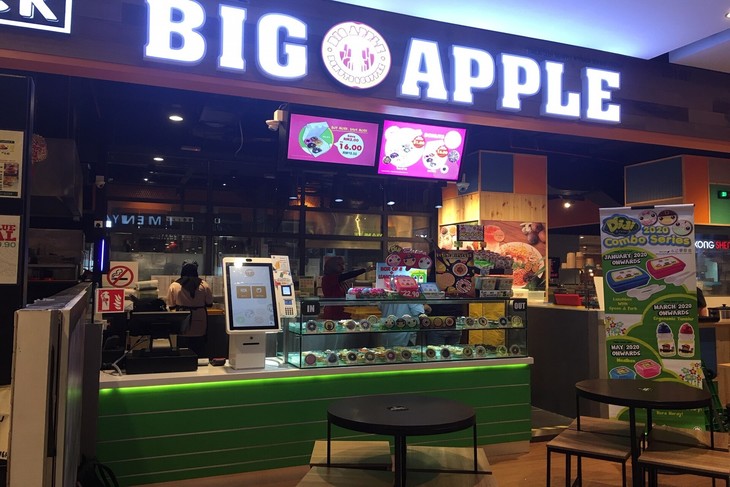 Client name
Big Apple Donuts & Coffee at MyTown
Address
Level 3, No.6, Jalan Cochrane, Seksyen 90, 55100 Kuala Lumpur
Big Apple Interasia Sdn Bhd, the well-known and big chain of donuts store, has had long establishment in Malaysia. It has more than 80 stores in Malaysia and its donuts stores typically operate under the name Big Apple Donuts & Coffee.

We are honoured to be given the chance to become part of Big Apple's new branch project. Big Apple is catching the trend and is moving a step forward by installing F&B automation system in their new branch located at MyTOWN Shopping Centre, which was soft launched on 22nd Jan 2020. This is the first project that has led to the beginning of the collaboration between Big Apple and ASTA.

We handled the installation of F&B automation system as below for Big Apple's NEW branch located at MyTOWN Shopping Centre.

- Point Of Sales
- Kitchen Display System
The Kitchen Display System and Order Slip printing system improve the speed of the operation and the efficiency of the kitchen staffs. The kitchen staffs will be able to receive orders in real time, view/check the order status and waiting time for a better operation management.
- Self-Ordering Kiosk
Our user-friendly and easy-to-use self food ordering system
enables customers to order donuts smoothly. Our kiosk is equipped with the full automation process from ordering to making payment. The customers can make payment at the kiosk by Debit/Credit Card and mobile e-wallets (QR code/barcode). After the completion of order and payment, the kiosk will issue receipt which contains the queue number as well.

These devices are connected with each other smoothly and they automatize the whole process from ordering to serving.
The automation system makes customer & staff satisfaction better and will help Big Apple more successful.